About Asus TUF Gaming GeForce RTX 4080 16GB
Graphic Engine
‎NVIDIA® GeForce RTX® 4080
Bus Standard
OpenGL
OpenGL®4.6
Video Memory
Engine Clock
OC mode: 2535 MHz
Default mode: 2505 MHz(Boost Clock)
CUDA
9728
Memory Speed
Memory Interface
Graphics Coprocessor
‎NVIDIA GeForce RTX 4080
Graphics Chipset Brand
‎NVIDIA
Graphics Card Description
‎Dedicated
Graphics RAM Type
‎GDDR6X
Graphics Card Ram Size
‎16 GB
Graphics Card Interface
‎PCI-Express x4
Voltage
‎12 Volts
Included Components
‎RTX 4080 TI SG (1-Click OC)
Manufacturer
‎Asus
Country of Origin
‎Taiwan
Item Weight
‎1 kg 360 g
About Asus TUF Gaming GeForce Motherboard
NVIDIA Ada Lovelace architecture elevated by buffed cooling and power delivery,
and backed with an arsenal of rugged reinforcements to cover your six.
Lock, load, and dominate with the Asus TUF Gaming GeForce RTX 4080 16GB.
New Streaming Multiprocessors

Up to 2x performance and power efficiency

Fourth-Gen Tensor Cores

Up to 2x AI performance

Third-Gen RT Cores

Up to 2x ray tracing performance
Bigger and better. Axial-tech fans spin on dual-ball bearings and have been scaled up to propel 23% more air through the card, setting the stage for lower temperatures, less noise, and higher performance.
The two side fans in the Asus TUF Gaming GeForce RTX 4080 16GB spin counterclockwise to minimize turbulence and maximize air dispersion through the heatsink.
All three fans come to a standstill when GPU temps are below 50 Celsius, letting you play less-demanding games or perform light tasks in relative silence.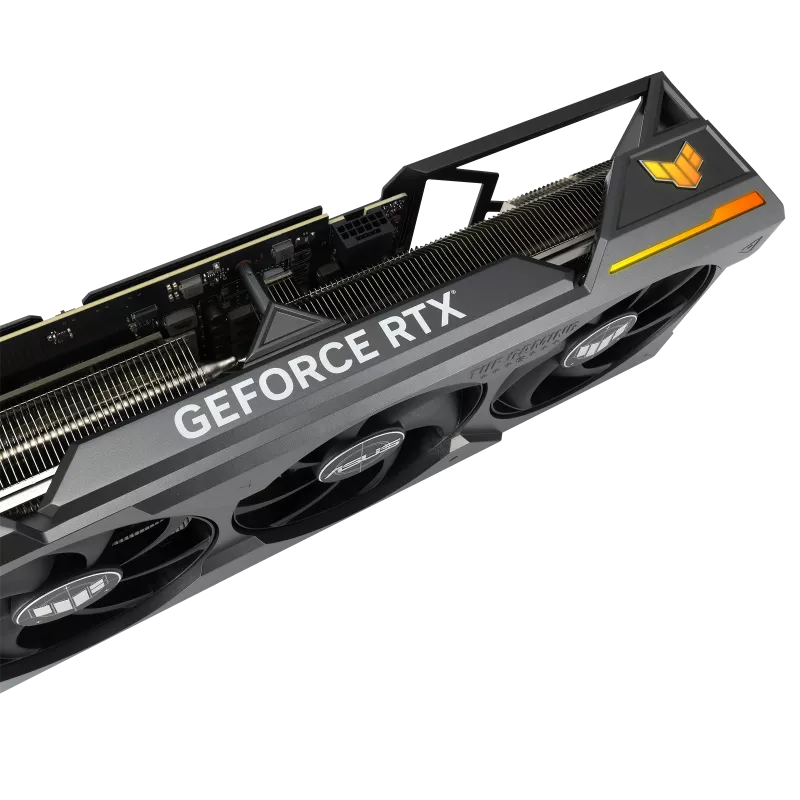 Fans start up again when temps are over 55 Celsius, referencing a speed curve that balances performance and acoustics for work or play.
A generously sized heatsink efficiently soaks up heat from the Asus TUF Gaming GeForce RTX 4080 16GB, allowing it to be whisked away by the three Axial-tech fans.
A lineup of capacitors rated to last 20,000 hours at 105 Celsius brings higher temperature and ripple tolerance to the GPU power rail, arming the card for long-term deployment in challenging conditions.
A high-quality diecast shroud and aluminum backplate prevent PCB flex and feature large vents to further increase heat dissipation.
Auto-Extreme Technology in the Asus TUF Gaming GeForce RTX 4080 16GB is an automated manufacturing process that sets new standards in the industry by allowing all soldering to be completed in a single pass.
This reduces thermal strain on components and avoids the use of harsh cleaning chemicals, resulting in less environmental impact, lower manufacturing power consumption, and a more reliable product overall.
Aura-compatible ARGB lighting on the shroud  of the Asus TUF Gaming GeForce RTX 4080 16GB adds a dash of customizable color or functional effects to your build.
Pair up with a vast range of compatible system components and coordinate the glow to create a theme that's uniquely you.
The bundled graphics card holder banishes sag and also contains a screwdriver to help you build.
ASUS GPU Tweak III in the Asus TUF Gaming GeForce Motherboard is more intuitive and feature-rich than ever before.
A revamped interface offers greater accessibility by integrating core functions into a centralized dashboard, and our Voltage-Frequency tuner has been overhauled to make overclocking even easier.
Additional goodies like 0dB fan technology, automatic profile swapping, a fully customizable on-screen display, and logging capabilities ensure that you get the most out of your graphics card.