Description
[vc_row][vc_column][vc_column_text]
About Fingers RGB Flow C2 Computer Cabinet
| | |
| --- | --- |
| Brand | ‎FINGERS |
| Manufacturer | ‎Dynamic Conglomerate Pvt. Ltd., Dynamic Conglomerate Pvt. Ltd., 4th Floor, Simba Tower, Vishveshwar Nagar, Goregaon, Mumbai, Maharashtra 400063, Contact: 9137141796 |
| Model | ‎Flow C2 |
| Model Name | ‎FINGERS RGB-Flow C2 |
| Product Dimensions | ‎37 x 17 x 35.5 cm; 2.84 Kilograms |
| Item model number | ‎Flow C2 |
| Number of items | ‎1 |
| Batteries Required | ‎No |
| Total USB ports | ‎3 |
| Material | ‎Polycarbonate (PC) |
| Manufacturer | ‎Dynamic Conglomerate Pvt. Ltd. |
| Country of Origin | ‎India |
| Item Weight | ‎2 kg 840 g |
[/vc_column_text][/vc_column][/vc_row][vc_row css=".vc_custom_1699363321999{border-top-width: 2px !important;}"][vc_column][vc_column_text]
About Fingers RGB Desktop Cabinets
FINGERS presents the cabinets of your dreams with Fingers RGB Flow C2 Computer Cabinet.
It's equal parts fun and functional, with a sturdy all-black finish and a scintillating ARGB LED strip that oozes trendy party vibes.
Sporting 1 x USB 3.0, 1 x USB 2.0 and Audio + Mic inputs, it will help get your work done in style.
And system heating becomes a thing of the past with a chassis specifically designed to dissipate heat efficiently, with an 8 cm fan bundled and a well-ventilated side panel.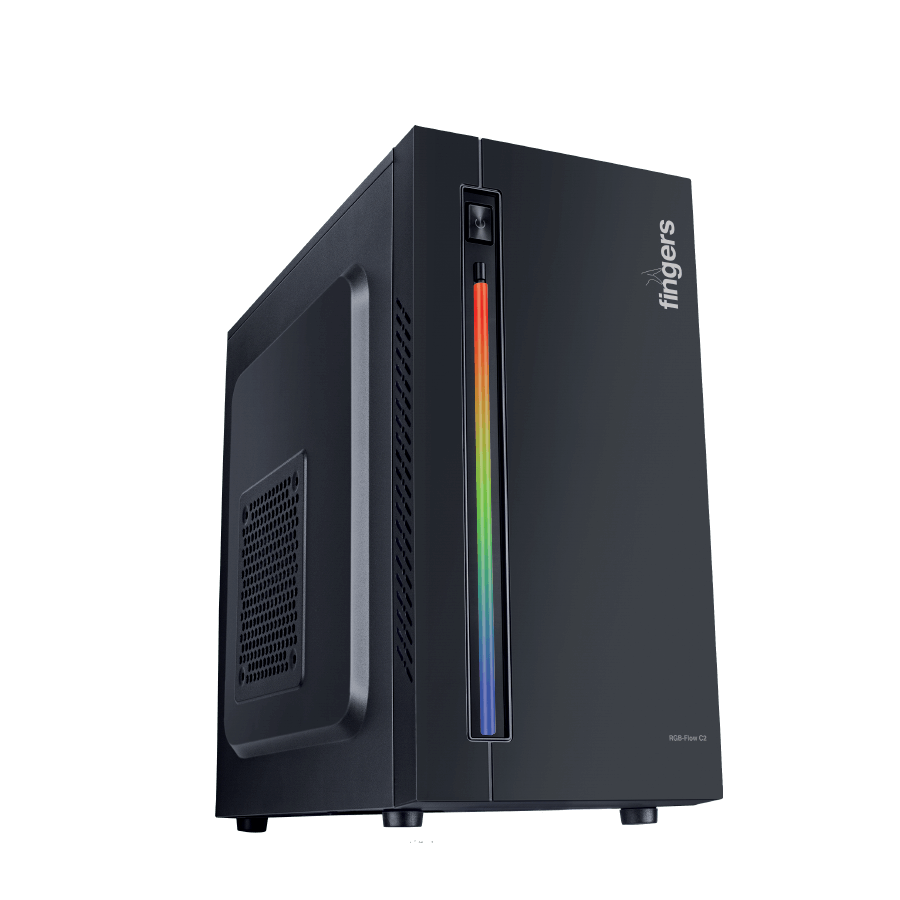 Rest assured, your heavy-duty work will be smoothly sustained by Fingers RGB Flow C2 Computer Cabinet.
FINGERS takes fashionable PC Cases a step ahead with ARGB LEDs. Your deskspace will never look the same again!
Fingers RGB Flow C2 Computer Cabinet matches the emerging demand and latest international trend of digital miniaturisation.
It adds style and saves space while giving a glamourous makeover to your workstation.
Lean and Mean
Along with beauty – enjoy sturdiness, durability, high quality and non-corrosion longevity with a strong chassis structure.
Increased PC longevity
Thanks to efficient ventilation and bundled with high performance SMPS, Fingers RGB Flow C2 Computer Cabinet increases the longevity of your precious devices and boosts your journey towards peak performance.
Easy and Quick to Assemble
Need for Speed?
Exclusively crafted and designed to integrate all the components internally with ease, it hardly takes any time to set up your PC so you can spend time doing what you love most.
About Fingers ARGB Computer Cabinets
In the ever-evolving world of gaming, enthusiasts seek the perfect combination of style, functionality, and performance in their gaming setups.
The Fingers RGB Flow C2 Computer Cabinet stands as a testament to innovation, offering a seamless blend of cutting-edge features and stunning design.
This advanced computer cabinet is meticulously crafted to cater to the diverse needs of gamers, PC enthusiasts, and professionals alike.
Unveiling the Fingers RGB Flow C2: A Masterpiece of Design and Technology
At the heart of Fingers RGB Flow C2 Computer Cabinet lies a captivating RGB lighting system that transforms your gaming setup into a mesmerizing visual spectacle.
This computer cabinet boasts a sleek and sturdy design, crafted from premium materials to ensure durability and longevity.
The RGB lighting is not merely decorative; it's a reflection of your gaming prowess, creating an immersive atmosphere that enhances your gaming experience.
Key Features of the Fingers RGB Flow C2 Computer Cabinet
Striking RGB Lighting: The Fingers RGB Flow C2 Computer Cabinet is adorned with vibrant RGB LED lights, customizable to match your mood and gaming ambiance.With a wide spectrum of colors and lighting effects, you can personalize your setup to create a unique gaming environment.
Spacious Interior: Designed with ample space to accommodate high-end gaming components, this cabinet allows for easy installation and efficient cable management.Its thoughtful layout ensures optimal airflow, preventing overheating and maintaining peak performance even during extended gaming sessions.
Easy Accessibility: The cabinet features tool-free access to various components, simplifying the installation and upgrading process.With strategically placed I/O ports, USB slots, and audio jacks, you can connect your peripherals effortlessly.
Durable Build: Crafted from high-quality materials, the Fingers RGB Flow C2 Computer Cabinet guarantees durability and resilience.Its robust construction ensures protection for your valuable components, safeguarding them against accidental damage.
Versatile Compatibility: This computer cabinet is compatible with a wide range of motherboards, graphics cards, cooling systems, and storage devices.Whether you are a casual gamer or a professional content creator, the Fingers RGB Flow C2 Computer Cabinet caters to your specific needs.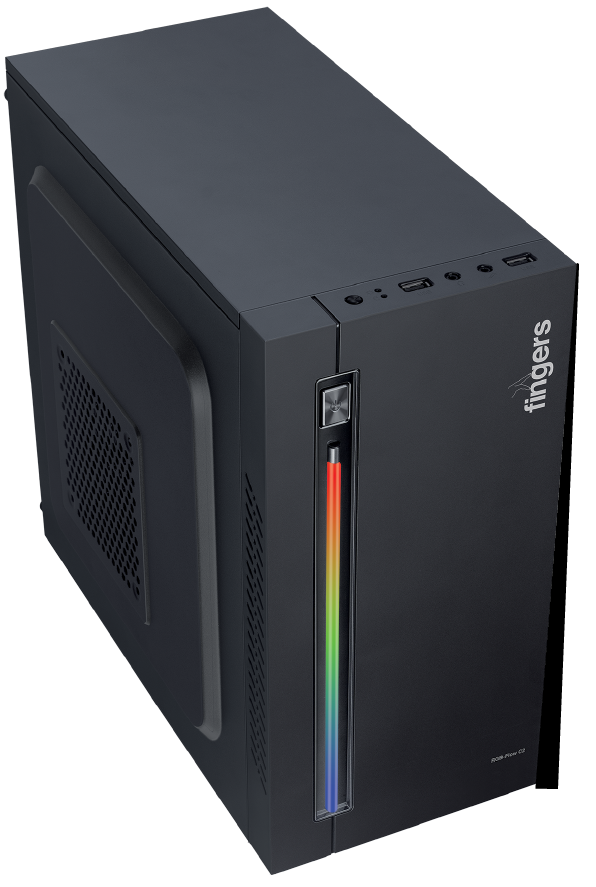 Applications of the Fingers RGB Desktop Cabinets
Gaming Enthusiasts: For avid gamers, the Fingers RGB Flow C2 Computer Cabinet offers a dynamic platform to elevate their gaming experience.The immersive RGB lighting and optimal airflow create an ideal environment for intensive gaming sessions.

With sufficient space for high-performance graphics cards and advanced cooling solutions, gamers can push their systems to the limit without worrying about overheating.

Content Creators: Video editors, 3D artists, and other content creators benefit from the Fingers RGB Flow C2 Computer Cabinet spacious interior, accommodating powerful processors and multiple storage devices.The efficient cooling system ensures stable performance, enabling seamless multitasking and resource-intensive tasks.
PC Enthusiasts: PC enthusiasts and DIY builders appreciate the ease of installation and customization offered by this cabinet.Its compatibility with various hardware configurations and extensive cable management options make it a preferred choice among tech enthusiasts who enjoy building and tweaking their systems.
Professional Workstations: Professionals working in fields like architecture, engineering, and design require reliable and powerful workstations.The Fingers RGB Flow C2 Computer Cabinet, with its robust build and expandability options, serves as an excellent choice for professionals seeking a dependable platform for their demanding applications.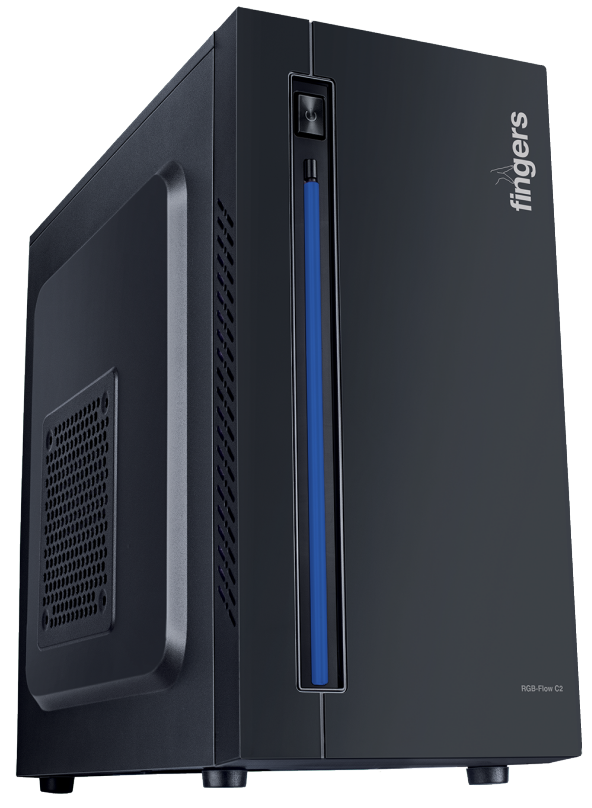 Fingers Gaming Computer Cabinet: Worth the Investment
The Fingers RGB Flow C2 Computer Cabinet is not just a piece of hardware; it's a statement.
It embodies the spirit of innovation and performance, catering to the diverse needs of gamers, content creators, PC enthusiasts, and professionals.
By investing in this exceptional computer cabinet, you are not just enhancing your gaming setup or workstation; you are embracing a new era of immersive computing.
With this you can also attain the Gamdias Athena M2 Mid Tower Cabinet. 
The ATHENA M2 is a mid-tower case that distinguishes itself with a bold and daring asymmetrical mesh design that is not only aesthetically pleasing but is also able to achieve high heat dissipation along with efficient stream-lined airflow.

The dark and clean-cut asymmetrical mesh combined with three built-in 120mm trio rings ARGB fans and ARGB light strips provide high-airflow along with brilliant and polished aesthetics.

With a detachable asymmetry mesh, a magnetic dust filter, and a seamless tempered glass held together by thumb screws, GAMDIAS redefines what it means to adjust and polish a case

The ATHENA M2 supports system-wide ARGB to compatible motherboards with lighting synchronization that controls the 3 ARGB fans and 2 ARGB light strips with a single push of a button
[/vc_column_text][/vc_column][/vc_row]