Description
[vc_row][vc_column][vc_column_text]
About Galax GeForce GTX 1650 EX Plus Graphics Card
| | |
| --- | --- |
| Brand | ‎Galax |
| Manufacturer | ‎GALAX, Galaxy Microsystems Ltd., Hong Kong, Kowloon Bay, Sheung Yuet Rd, 3號企業廣場二期 |
| Colour | ‎Black |
| Form Factor | ‎atx |
| Item Height | ‎33 Millimeters |
| Item Width | ‎11.1 Centimeters |
| Product Dimensions | ‎20 x 11.1 x 3.3 cm; 800 Grams |
| Item model number | ‎65SQL8DS93E1 |
| Processor Brand | ‎nvidia |
| Memory Clock Speed | ‎1605 |
| Graphics Coprocessor | ‎NVIDIA GeForce GTX 1650 |
| Graphics Chipset Brand | ‎NVIDIA |
| Graphics Card Description | ‎dedicated |
| Graphics RAM Type | ‎GDDR6 |
| Graphics Card Ram Size | ‎4 |
| Graphics Card Interface | ‎PCI Express |
| Wireless Type | ‎802.11a |
| Wattage | ‎90 Watts |
| Hardware Platform | ‎PC |
| Are Batteries Included | ‎No |
| Included Components | ‎GTX 1650 EX PLUS (1-Click OC) GDDR6 |
| Manufacturer | ‎GALAX |
| Country of Origin | ‎Hong Kong |
| Item Weight | ‎800 g |
[/vc_column_text][/vc_column][/vc_row][vc_row css=".vc_custom_1695490101747{border-top-width: 2px !important;}"][vc_column][vc_column_text]
About Galax Computer Graphics Card
In today's rapidly evolving technological landscape, finding a graphics card that can seamlessly cater to both gaming enthusiasts and professionals can be a challenge.
Enter the Galax GeForce GTX 1650 EX Plus – a harmonious blend of power, efficiency, and affordability.
Whether you're diving into the latest AAA gaming title or rendering high-resolution graphics for work, this card has got you covered.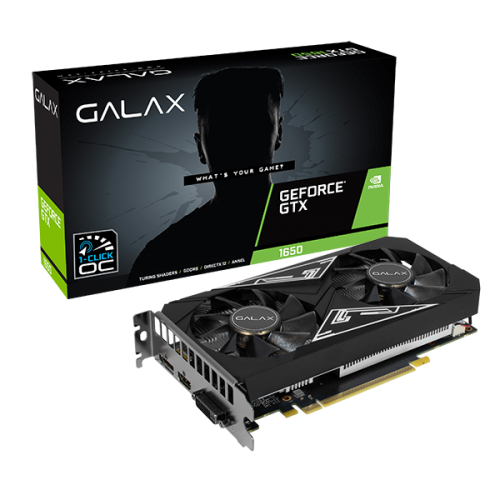 Exceptional Features of the Galax GTX Graphics Card
NVIDIA Turing Architecture: Harnessing the power of NVIDIA's Turing architecture, the Galax GeForce GTX 1650 EX Plus Graphics Card brings a revolutionary performance leap, ensuring faster, smoother, and more power-efficient experiences.
1-Click OC Feature: The ability to boost your card's performance with just a click is a boon for those who want more without the hassle.This feature allows users to enhance their GPU clock speed effortlessly, providing that extra punch when needed.
4GB GDDR6 Memory: The 4GB GDDR6 memory ensures that high-resolution graphics and data-intensive tasks are executed with ease, guaranteeing smooth visuals without any lag.
Dual Fan Cooling: A robust cooling system is imperative to maintain peak performance.The Galax GeForce GTX 1650 EX Plus Graphics Card features a dual-fan setup, ensuring optimal thermal conditions even during intense sessions.
Efficiency and Performance: With 896 CUDA cores and a boost clock of up to 1635 MHz, this card is tailored for those who demand high efficiency and superior performance in their graphical tasks.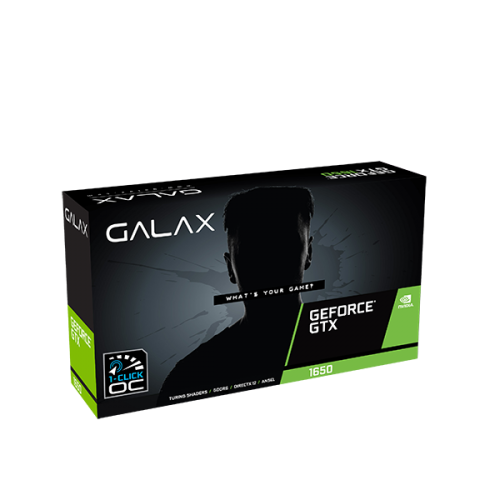 Benefits of Using the Galax GeForce Graphics Card
Immersive Gaming Experience: Dive deep into the realms of your favorite games with astonishing details and fluidity.The Galax GeForce GTX 1650 EX Plus Graphics Card ensures your gaming sessions are immersive, vibrant, and free of interruptions.
Optimal Performance: No more compromising on game settings. Play the latest titles on high settings without the fear of lags or stutters.
Future Ready: As gaming dynamics evolve, the Galax GeForce GTX 1650 EX Plus Graphics Card ensures you're not left behind. The card is tailored to handle the demands of current and upcoming titles with ease.
Enhanced Productivity: Whether it's video editing, graphic design, 3D modeling, or any data-driven task, the Galax GeForce GTX 1650 EX Plus Graphics Card provides the muscle to ensure tasks are executed smoothly.
Precision and Clarity: The card's high-resolution prowess guarantees that professionals can work with intricate details, ensuring precision in every task.
Multi-Tasking Efficiency: Seamlessly switch between applications and handle multiple tasks without any slowdowns.The Galax GeForce GTX 1650 EX Plus Graphics Card Plus is built for those who need to juggle numerous tasks efficiently.
Sturdy and Durable: Crafted with the utmost care, the Galax GeForce GTX 1650 EX Plus Graphics Card Plus promises longevity.Its efficient cooling system not only maintains optimal temperatures but also contributes to the card's lifespan.
Energy-Efficient: The fusion of performance and efficiency ensures that you don't have to worry about escalating electricity bills.The card delivers top-tier performance while being energy-conscious.
Community and Support: With a vast online community and regular driver updates, users can always stay updated with the latest features, tweaks, and solutions for any challenges they might face.
Affordability: One of the standout features of the Galax GeForce GTX 1650 EX Plus Graphics Card is its price point.It brings to users a plethora of advanced features without burning a hole in their pockets, making it a favorite among many.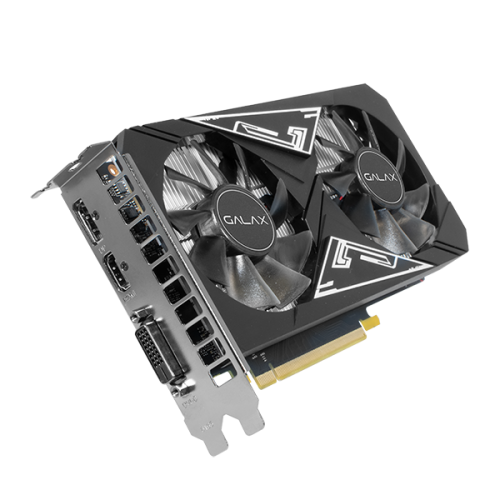 About the Nvidia Computer Graphics Card
The Galax GeForce GTX 1650 EX Plus Graphics Card is more than just another piece of hardware; it's a testament to the advancements in graphics technology.
Catering aptly to both gamers and professionals, it breaks the age-old notion that one has to splurge to get the best.
For gamers, every pixel and frame matters, and this card ensures they get the very best of both. For professionals, time is of the essence, and the efficiency and speed offered by the GTX 1650 EX Plus can be a game-changer.
In essence, if you're on the lookout for a graphics card that promises stellar performance, is energy efficient, and won't break the bank, the Galax GeForce GTX 1650 EX Plus should undoubtedly be on your radar.
We at Kharidiye.com are an authorised dealer as well as a reseller of Galax Graphics Card and with this you can attain the Galax GeForce RTX 3050 EX Graphics Card.
CUDA Cores 2560

Boost Clock (MHz) 1822

1-Click OC Clock (MHz) 1837 (by installing Xtreme Tuner Plus Software and using 1-Click OC)

Memory Interface Width 128-bit GDDR6

PCI-E 4.0
[/vc_column_text][/vc_column][/vc_row]