GIGABYTE B550M DS3H Ultra Durable Motherboard Product Description
| | |
| --- | --- |
| Brand | GIGABYTE |
| Manufacturer | Gigabyte, GIGABYTE Technology (India) Pvt Ltd, B-808, Naman Midtown, Elphinstone Road, Mumbai – 400013 – INDIA, Tel. +91-22-40633222 |
| Model | B550M DS3H |
| Model Name | B550M DS3H Ultra Durable Motherboard |
| Model Year | 2020 |
| Product Dimensions | 24.4 x 24.4 x 4 cm; 630 Grams |
| Item model number | ‎B550M DS3H |
| Graphics Card Interface | PCI-E |
| Mounting Hardware | Motherboard |
| Batteries Included | Yes |
| Batteries Required | Yes |
| Manufacturer | Gigabyte |
| Country of Origin | China |
| Item Weight | 630 g |
About Gigabyte Computer Motherboard / Gigabyte Gaming Motherboard
The GIGABYTE B550M DS3H Ultra Durable Motherboard is one of the best motherboard Series from the house of Gigabyte. 
Whats more important for a gamer in his/her desktop when the Motherboard performs that best? None, right?
Yes!!! so this is what Gigabyte team has been working on and the Gigabyte B550M DS3H Ultra Durable Motherboard is about.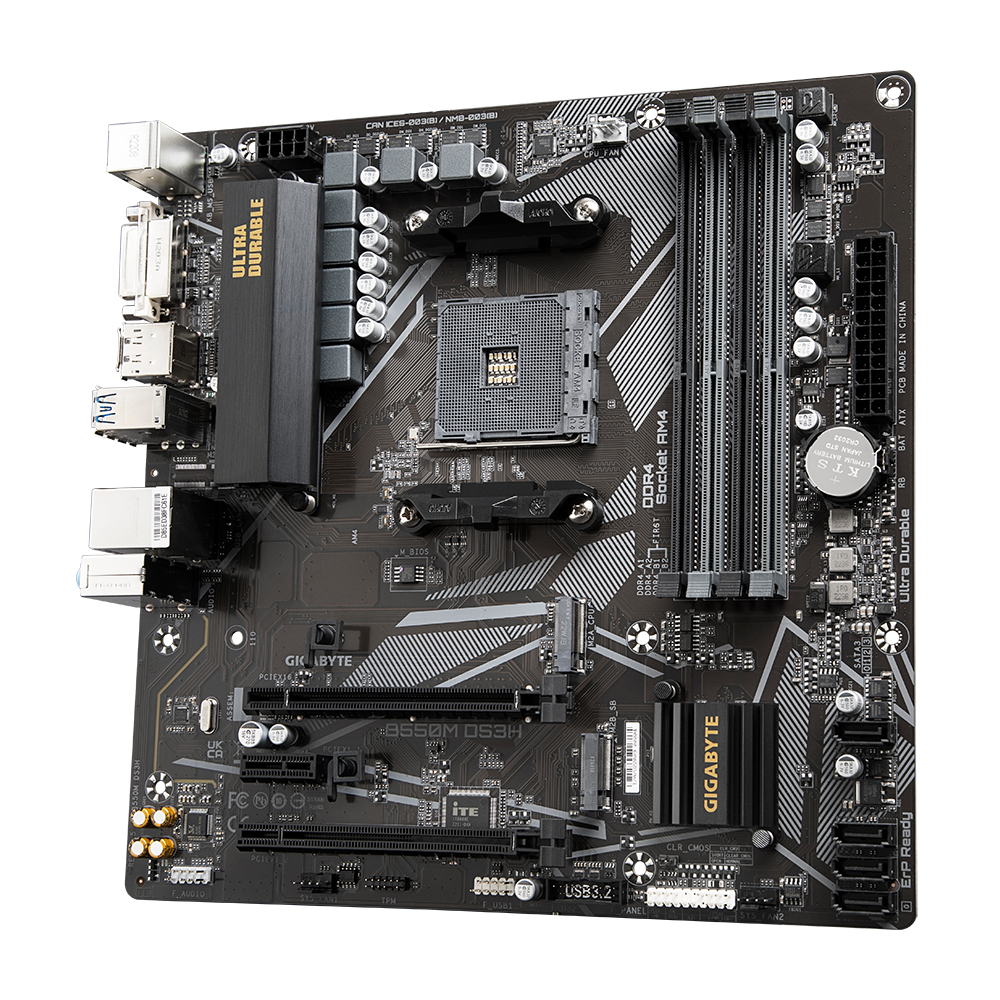 The GIGABYTE B550M DS3H Ultra Durable Motherboard has been designed to support Processors of the AMD Ryzen 3rd Generation of 5000 series or 5000 G-series with Radeon Graphics Processor.
One also counts the number of ports present in a motherboard.
Well the GIGABYTE B550M DS3H Ultra Durable Motherboard has nearly all the required ports a gamer needs.
From HDMI, DVI-D, D-sub Ports for Multiple Display.
Making it 10 USB ports total to be present in the system.
Many Motherboard companies do a brand tie up with AMD and Gigabyte knows the importance of having its products that supports AMD Technology.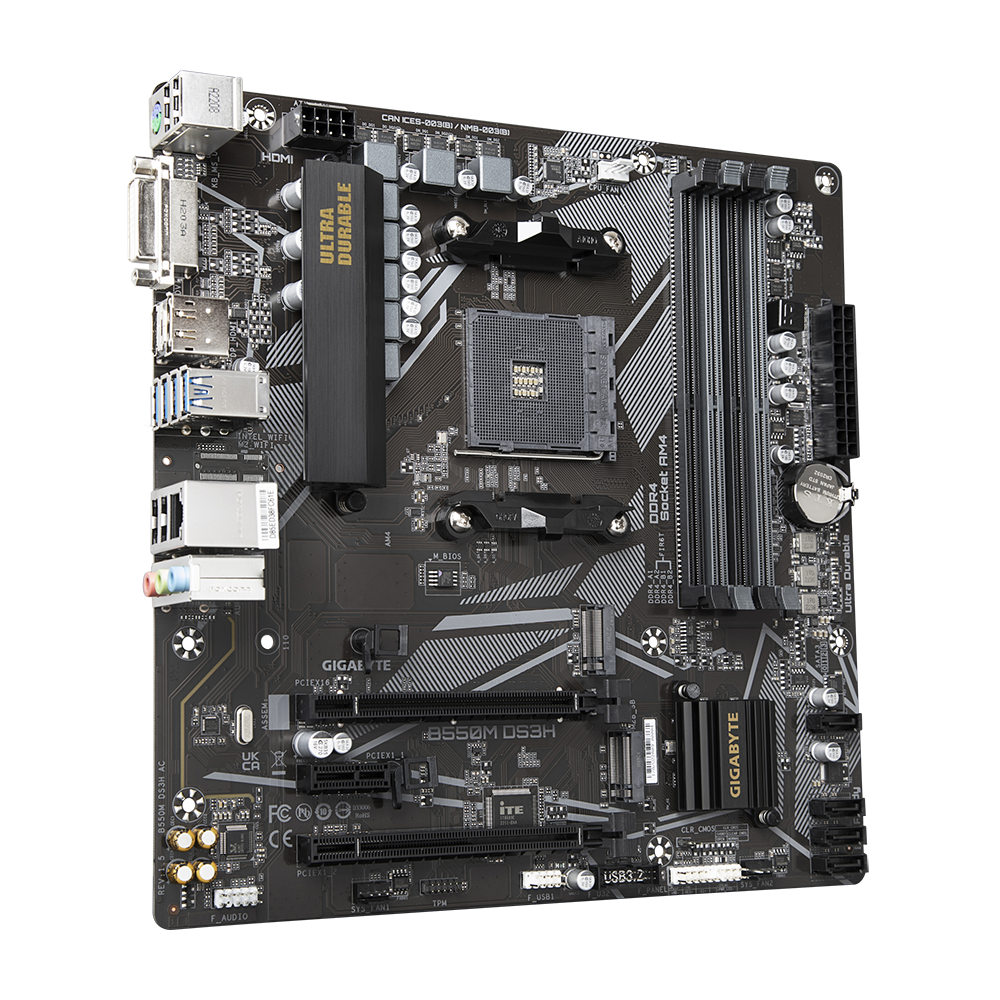 Gigabyte comes with the AMD StoreMI Technology. GIGABYTE 400-series motherboards maximize your PC's potential with AMD StoreMI technology.
StoreMI accelerates traditional storage devices to reduce boot times and enhance the overall user experience.
The benefits of AMD StoreMI:
• Making the PC experience fast, smooth and easy
• Optimizing computer responsiveness from system boot to application launch
• Offering SSD performance with HDD capacity at an affordable cost
• Quickly accessing key files by automatically learning users' computing behaviors
This easy-to-use utility combines the speed of SSDs with the high capacity of HDDs into a single drive, enhances the read/write speeds of the device to match that of SSDs, bolsters data performance for incredible value, and transforms the everyday PC to a performance driven system.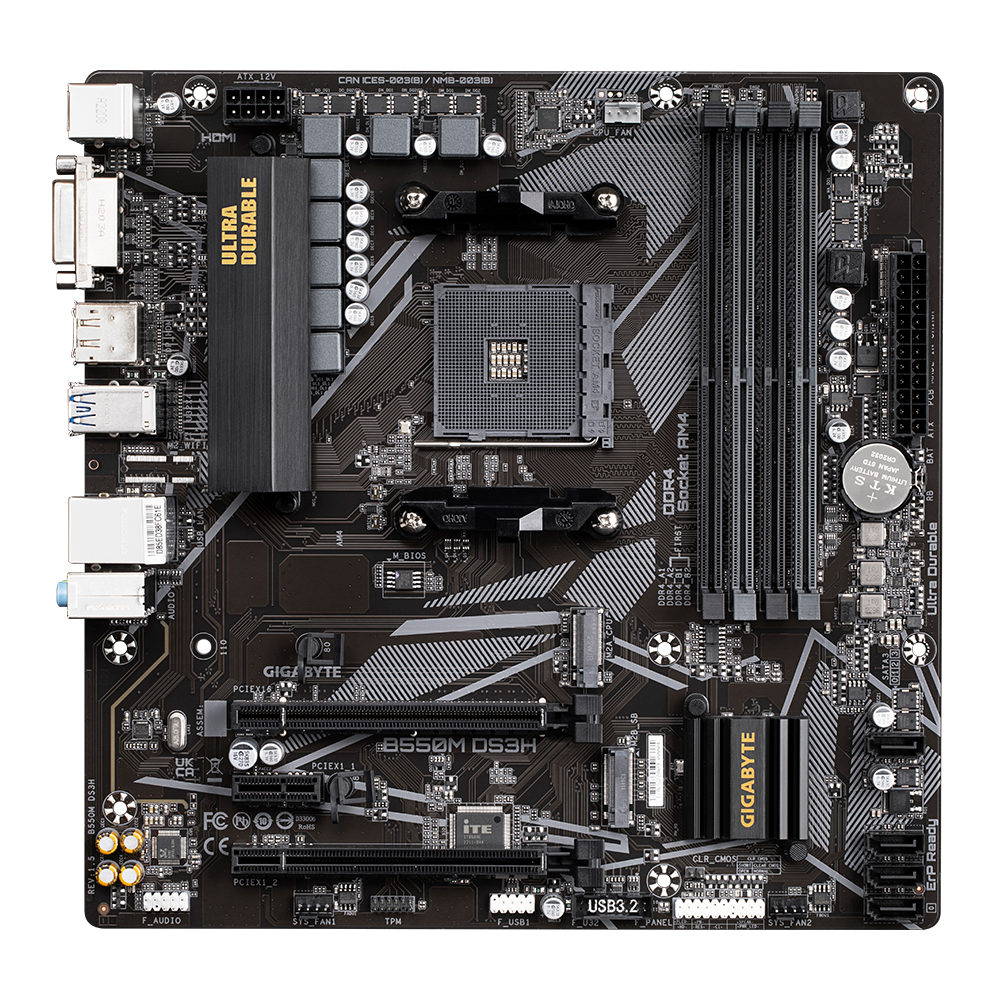 Why to buy the GIGABYTE B550M DS3H Ultra Durable Motherboard from Kharidiye.com?
Now that you know about the GIGABYTE AMD B450M S2H Ultra Durable Motherboard, you would still be thinking whether you should consider of buying it or look into other similar products.
We at Kharidiye.com, acknowledges consumers preferences and this is why we offer our customers various products from Gigabyte.
If you are looking for the more affordable motherboard of Gigabyte, we offer you the GIGABYTE H410M H Ultra Durable Motherboard. Also made for gaming and content creation purposes, you can attain this at INR 5,399/-.
It comes with with GIGABYTE 8118 Gaming LAN, Anti-Sulfur Resistor, Smart Fan 5.
The GIGABYTE B550M DS3H Ultra Durable Motherboard comes with a WiFi option as well from the makers of Gigiabyte. The Gigabyte AMD B550 Ultra Durable Motherboard comes with RGB FUSION 2.0 with Addressable RGB & RGB LED Strips Support.