Description
[vc_row][vc_column][vc_column_text]
About Gigabyte B650M Aorus Elite AX AMD Motherboard
| | |
| --- | --- |
| Brand | ‎GIGABYTE |
| Manufacturer | ‎Gigabyte |
| Series | ‎B650M AORUS ELITE AX |
| Colour | ‎black |
| Form Factor | ‎Micro ATX |
| Item Height | ‎2.67 Inches |
| Item Width | ‎10.55 Inches |
| Product Dimensions | ‎26.97 x 26.8 x 6.78 cm; 1.68 Kilograms |
| Item model number | ‎B650M |
| Processor Brand | ‎amd |
| Processor Socket | ‎Socket AM5 |
| Memory Technology | ‎DDR5 |
| Maximum Memory Supported | ‎128 GB |
| Memory Clock Speed | ‎6666 MHz |
| Graphics Card Interface | ‎PCI Express |
| Wireless Type | ‎802.11ax |
| Number of USB 2.0 Ports | ‎4 |
| Are Batteries Included | ‎No |
| Manufacturer | ‎Gigabyte |
| Country of Origin | ‎China |
| Item Weight | ‎1 kg 680 g |
[/vc_column_text][/vc_column][/vc_row][vc_row css=".vc_custom_1699181174555{border-top-width: 2px !important;}"][vc_column][vc_column_text]
About Giabyte Computer Motherboard
In the dynamic realm of PC hardware, choosing the right motherboard is paramount.
The Gigabyte B650M Aorus Elite AX stands out as a stellar choice, offering a perfect blend of cutting-edge features, reliability, and performance.
Designed to meet the demands of modern computing, this micro-ATX motherboard is a powerhouse that caters to both gamers and professionals alike.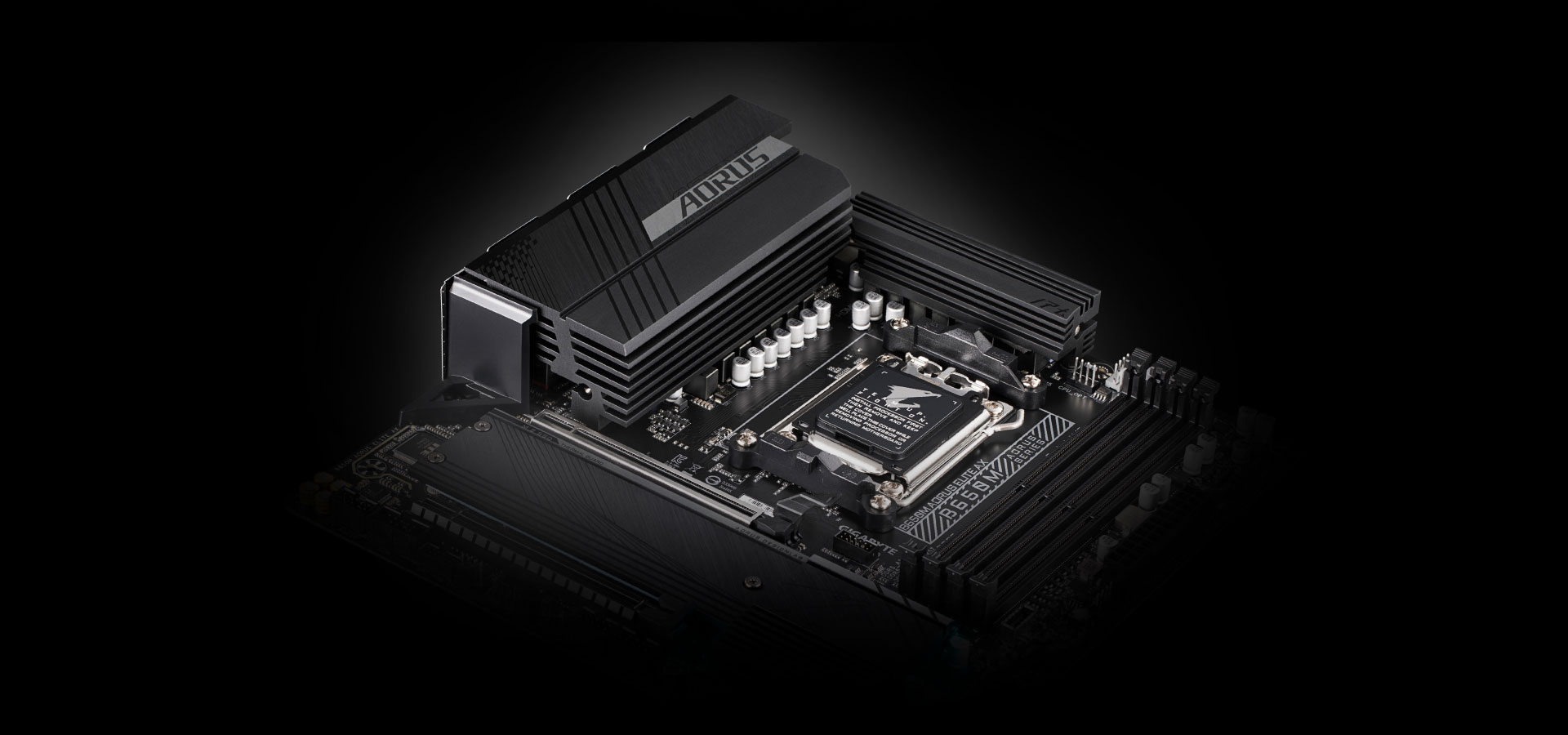 About Gigabyte Aorus Series Motherboard
Unparalleled Performance and Speed: At the heart of the Gigabyte B650M Aorus Elite AX lies its robust architecture.Equipped with Intel's B650 chipset, this motherboard ensures seamless compatibility with the latest 10th and 11th generation Intel Core processors.

This means you can experience unparalleled processing power, enabling you to tackle resource-intensive tasks, run demanding applications, and enjoy immersive gaming experiences without a hitch.

High-Speed Connectivity: The Gigabyte B650M Aorus Elite AX takes connectivity to a whole new level.It features support for lightning-fast Wi-Fi 6E and Gigabit LAN, ensuring smooth and lag-free online gaming, streaming, and browsing experiences.

The inclusion of Bluetooth 5.2 further enhances the connectivity options, allowing you to effortlessly connect your peripherals and devices with minimal latency.

Immersive Audio Experience: Immerse yourself in a world of high-quality sound with the Gigabyte B650M Aorus Elite AX advanced audio technologies.The motherboard comes equipped with a high-definition audio processor and high-quality audio capacitors, delivering crystal-clear sound and immersive surround sound effects.

Whether you're gaming, watching movies, or listening to music, the audio quality is unmatched, enhancing your overall multimedia experience.
Multi-GPU Support for Gaming Enthusiasts: For gaming enthusiasts seeking exceptional graphics performance, the Gigabyte B650M Aorus Elite AX offers support for multi-GPU configurations.With multiple PCIe slots, you can install multiple graphics cards, allowing for enhanced gaming visuals, smoother frame rates, and improved overall gaming performance.

This feature is a game-changer for gamers who demand the utmost in graphical fidelity and gaming responsiveness.

Robust Cooling Solutions: Efficient cooling is crucialfor maintaining optimal performance, especially during intense gaming sessions or demanding workloads.The Gigabyte B650M Aorus Elite AX addresses this need with its comprehensive cooling solutions.

It comes equipped with multiple fan headers and advanced thermal designs, ensuring efficient heat dissipation and maintaining stable system temperatures.

This results in improved reliability and longevity for your PC components.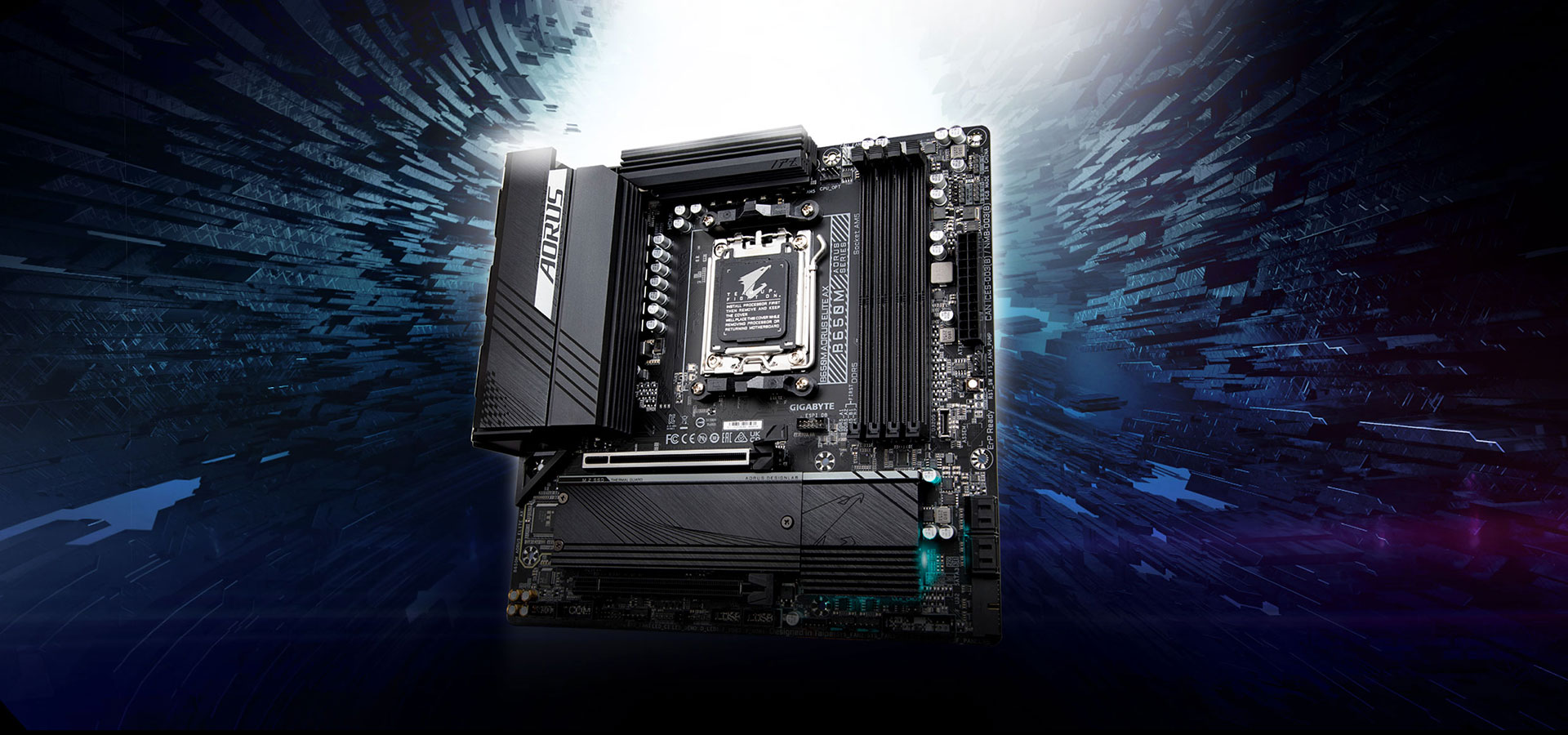 Applications of the Gigabyte AMD AM5 Motherboard
Gaming Enthusiasts: For gamers, the Gigabyte B650M Aorus Elite AX provides the perfect foundation for building a high-performance gaming rig.Its support for multi-GPU configurations, high-speed connectivity, and immersive audio make it an ideal choice for gamers who demand top-tier performance and responsiveness from their gaming setups.
Content Creators: Video editors, 3D artists, and other content creators benefit greatly from the Gigabyte B650M Aorus Elite AX powerful processing capabilities.It allows for smooth multitasking, quick rendering, and efficient handling of large media files, enabling content creators to bring their creative visions to life without any bottlenecks.
Professional Workstations: Professionals working in fields such as graphic design, architecture, and engineering require reliable and efficient workstations.The Gigabyte B650M Aorus Elite AX, with its robust architecture and high-speed connectivity, serves as an excellent foundation for professional workstations, ensuring smooth operation of resource-intensive applications and tasks.
Home Entertainment Systems: Transform your PC into a multimedia powerhouse with the Gigabyte B650M Aorus Elite AX.Its high-quality audio capabilities, combined with the ability to support multiple storage drives and high-end graphics cards, make it an excellent choice for home entertainment systems.

Whether you're streaming movies, gaming, or enjoying virtual reality experiences, this motherboard enhances your home entertainment setup to deliver an immersive and enjoyable experience.
Gigabyte Aorus Elite Aorus Motheboard: Worth the investment
The Gigabyte B650M Aorus Elite AX stands as a testament to Gigabyte's commitment to delivering exceptional performance and reliability.
Its advanced features, versatile applications, and unmatched capabilities make it a top choice for gamers, content creators, professionals, and home users alike.
Elevate your PC experience and unleash the full potential of your system with the Gigabyte B650M Aorus Elite AX.
With this you can also attain the Gigabyte Aorus B450 Elite Motherboard.
Supports AMD 2nd generation Ryzen/ Ryzen with Radeon Vega Graphics/ 1st generation Ryzen processors

Dual channel non-ECC unbuffered DDR4, 4 DIMMs

HDMI, DVI D ports for multiple display

Integrated I/O shield of ultra-durable design

Support for AMD Quad GPU Crossfire and 2 way AMD Crossfire technologies
[/vc_column_text][/vc_column][/vc_row]