Description
[vc_row][vc_column][vc_column_text]
About H7 Elite Mid Tower White
| | |
| --- | --- |
| Brand | ‎Nzxt |
| Manufacturer | ‎NZXT, NZXT |
| Series | ‎H7 Elite |
| Colour | ‎White |
| Item Height | ‎48 Centimeters |
| Item Width | ‎23 Centimeters |
| Product Dimensions | ‎48 x 23 x 48 cm; 10.57 Kilograms |
| Item model number | ‎CM-H71EW-02 |
| Are Batteries Included | ‎No |
| Manufacturer | ‎NZXT |
| Country of Origin | ‎China |
| Item Weight | ‎10 kg 600 g |
[/vc_column_text][/vc_column][/vc_row][vc_row css=".vc_custom_1700204889861{border-top-width: 2px !important;}"][vc_column][vc_column_text]
About NZXT Computer Cabinet
Unleashing the Power of Innovation: H7 Elite Mid Tower White
The future of PC gaming and performance lies with the NZXT H7 Elite Mid Tower White.
As a leading name in the realm of computer hardware, NZXT has once again pushed the boundaries of innovation with this exceptional mid-tower chassis.
In this detailed exploration, we will delve into the impressive features that make the NZXT H7 Elite Mid Tower White a standout choice for gaming enthusiasts, content creators, and PC enthusiasts alike.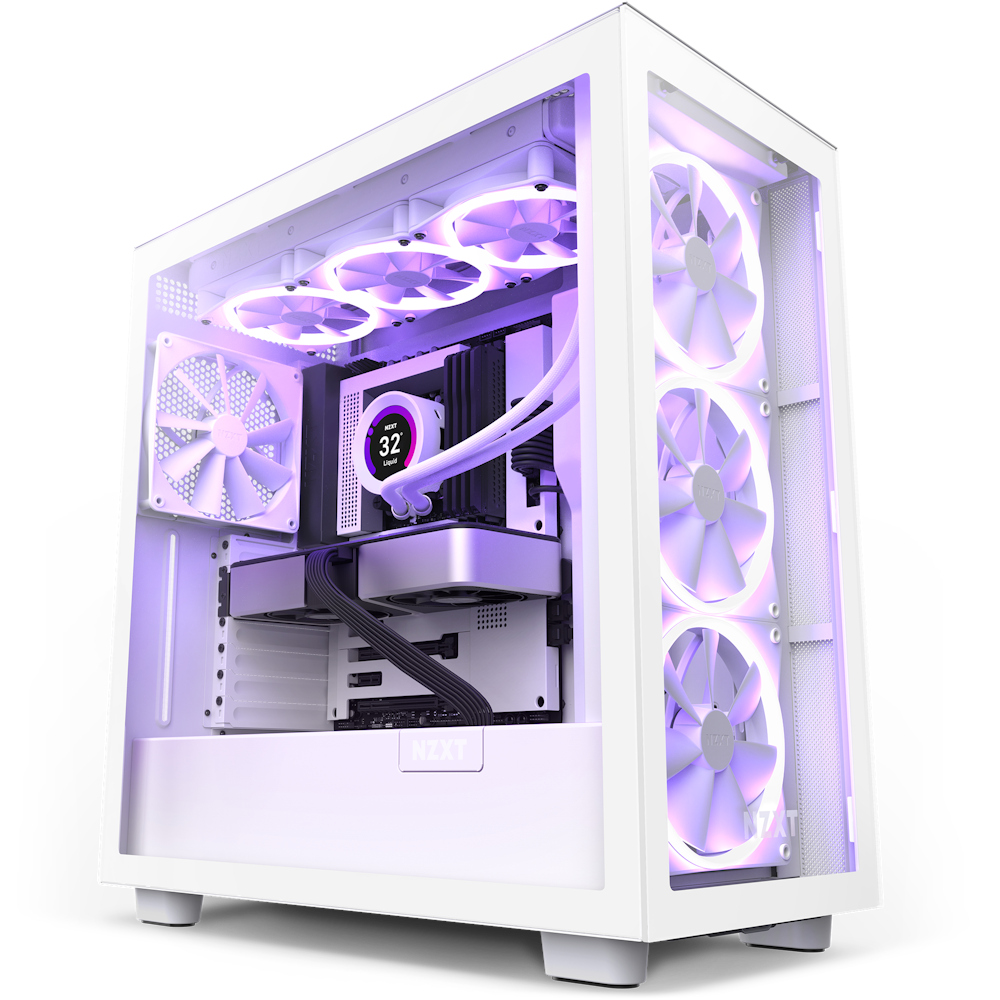 Features of the NZXT Gaming Desktop Cabinet
Design and Aesthetics: The NZXT H7 Elite Mid Tower White is not just a computer case; it's a work of art.Boasting a sleek and modern design, this mid-tower chassis stands out with its clean lines, contrasting color scheme, and premium build quality.The immaculate white finish not only adds a touch of elegance but also allows for seamless integration into any gaming setup, whether it's a minimalist workstation or a vibrant, RGB-lit gaming station.
Construction and Build Quality: Crafted with precision and durability in mind, the NZXT H7 Elite Mid Tower White is constructed from high-quality materials that ensure both structural integrity and aesthetic appeal.The chassis is made from sturdy steel, providing a robust foundation for your high-performance components.The tempered glass side panel not only showcases your powerful hardware but also allows for easy access during installation and maintenance.
Advanced Cooling Solutions: Efficient cooling is at the heart of the H7 Elite's design.This mid-tower chassis comes equipped with a comprehensive cooling solution, featuring optimized airflow and room for up to seven fans.The front panel is designed with a mesh pattern to maximize air intake, while the rear and top panels provide options for exhaust fans.Additionally, the NZXT H7 Elite Mid Tower White supports various liquid cooling configurations, making it an ideal choice for those seeking to push their system to the limits.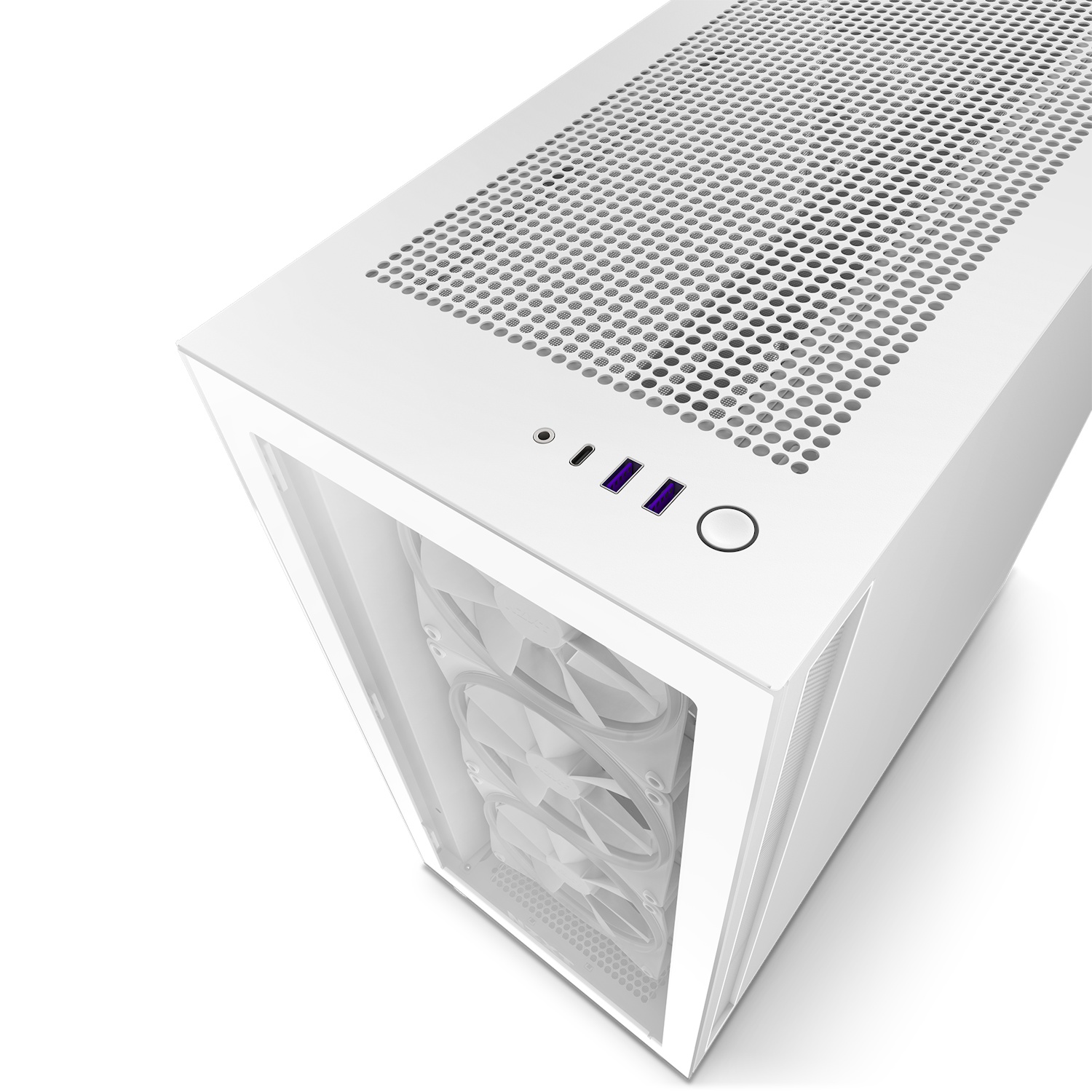 Cable Management Excellence: Say goodbye to cable clutter and hello to a clean and organized build.The NZXT H7 Elite Mid Tower White excels in cable management, providing ample space behind the motherboard tray for routing and securing cables.The inclusion of cable tie-down points ensures a tidy interior, not only improving aesthetics but also enhancing airflow for optimal cooling performance.
Expansive Storage Options: Never worry about running out of storage space again.The NZXT H7 Elite Mid Tower White offers a plethora of storage options, including multiple 3.5″ and 2.5″ drive bays.Whether you're a content creator with vast media libraries or a gamer with an extensive game collection, this chassis ensures you have the storage capacity to meet your needs.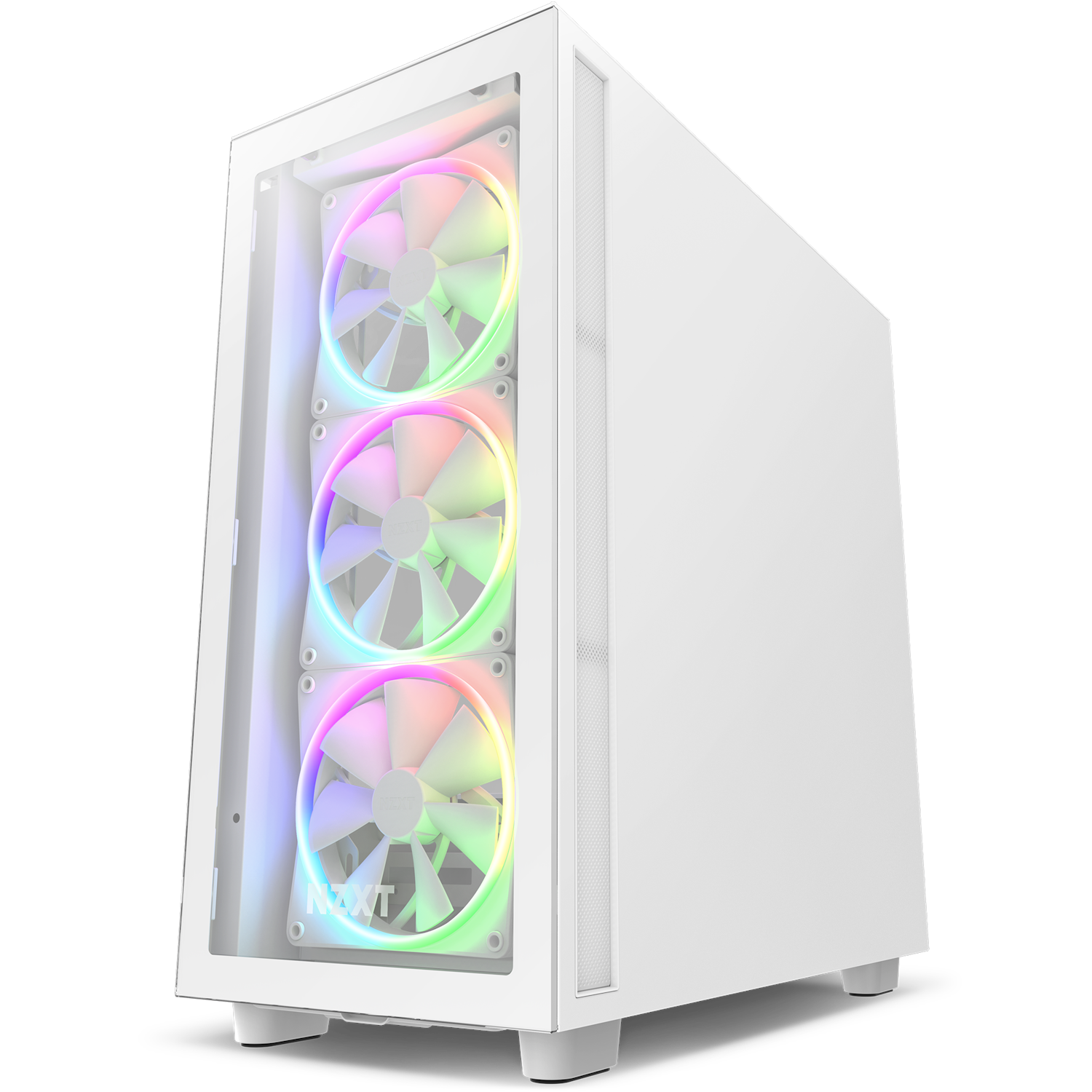 User-Friendly Features: NZXT understands the importance of user convenience, and the NZXT H7 Elite Mid Tower White reflects this philosophy.The tool-less design simplifies the installation process, allowing users to build their dream system with ease.The easily removable dust filters ensure that your components stay clean, promoting longevity and optimal performance.
Applications of the NZXT Mid Tower Computer Cabinet
Gaming Powerhouse: The NZXT H7 Elite Mid Tower White is tailor-made for gamers who demand the best.With its advanced cooling capabilities, expansive storage options, and attention to cable management, this chassis provides the perfect environment for high-performance gaming setups.Whether you're into competitive eSports or immersive single-player experiences, the NZXT H7 Elite Mid Tower White ensures your system runs cool and quiet during those intense gaming sessions.
Content Creation Hub: For content creators who work with resource-intensive applications such as video editing, 3D rendering, and graphic design, the NZXT H7 Elite Mid Tower White  offers the horsepower needed for seamless multitasking.The efficient cooling system ensures that your components stay within optimal temperature ranges, allowing you to focus on unleashing your creativity without worrying about performance bottlenecks.
Enthusiast's Dream: PC enthusiasts and modding aficionados will appreciate the H7 Elite's combination of form and function.The sleek design provides a canvas for customization, while the robust construction and advanced features cater to the demands of hardware enthusiasts.Whether you're building a showcase system or a powerful workstation, the NZXT H7 Elite Mid Tower White sets the stage for your creativity.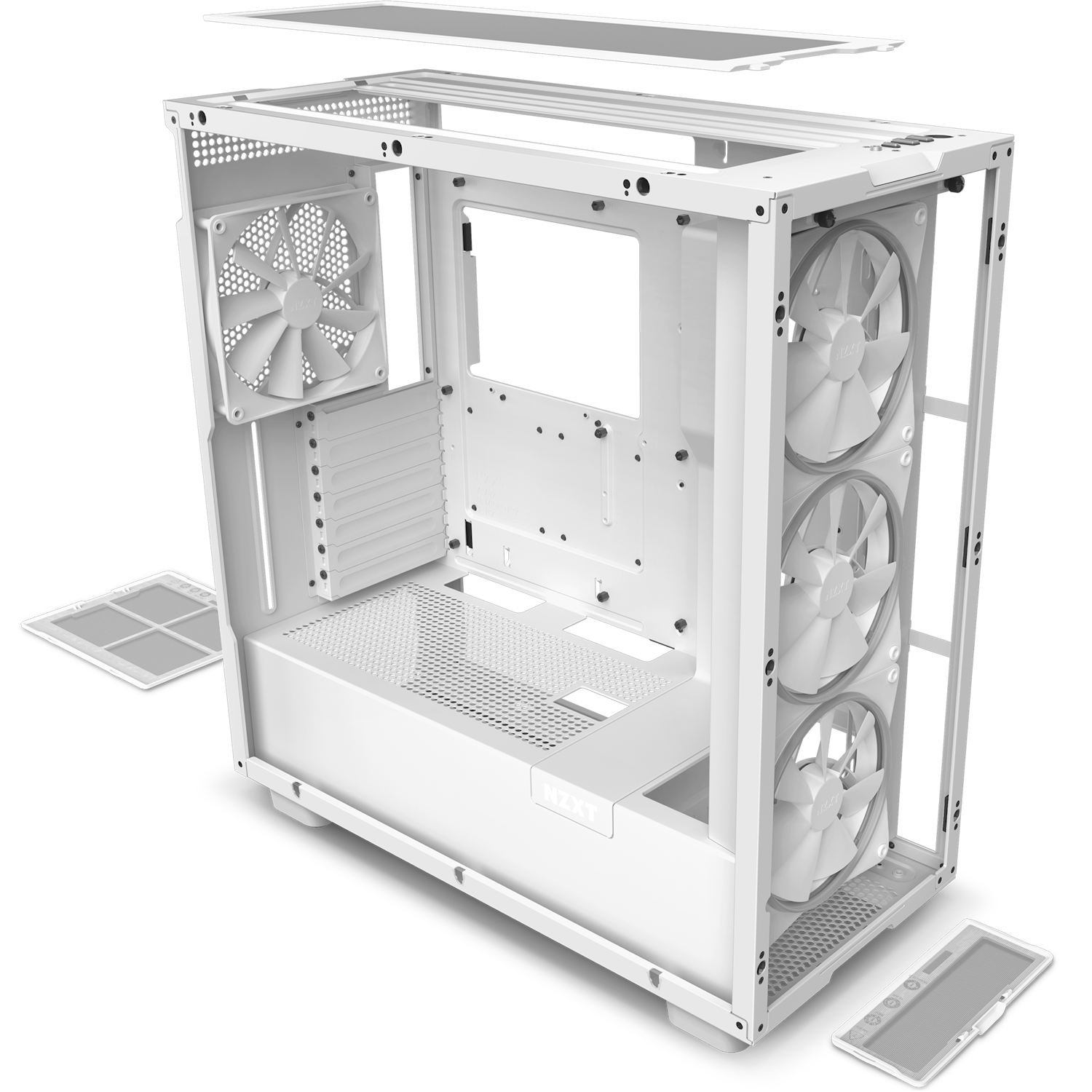 About NZXT Premium Computer Cabinet
The NZXT H7 Elite Mid Tower White stands as a testament to the brand's commitment to innovation and quality.
This mid-tower chassis combines a stunning design with advanced features, making it a top choice for gamers, content creators, and PC enthusiasts alike.
Elevate your computing experience with the NZXT H7 Elite Mid Tower White, where style meets performance in perfect harmony.
You can also attain the H9 Elite Premium Dual Chamber White.
Unique uninterrupted glass panel for a clear view of the interior.

Intuitive cable management and dual chamber design.

Includes three F Series 120mm RGB Duo Fans and one F120Q Fan.

Tempered glass top panel and included RGB & Fan Controller.

Direct airflow to the GPU for handling high-powered components.
[/vc_column_text][/vc_column][/vc_row]