Description
[vc_row][vc_column][vc_column_text]
About Kraken 240 RGB Liquid Cooler White
| | |
| --- | --- |
| Brand | ‎Nzxt |
| Power Connector Type | ‎3-Pin |
| Voltage | ‎12 Volts |
| Wattage | ‎12 Watts |
| Cooling Method | ‎Water |
| Compatible Devices | ‎Desktop |
| Noise Level | ‎33.88 dB |
| Maximum Rotational Speed | ‎2800 RPM |
| Product Dimensions | ‎12.3L x 27.5W x 3H Centimeters |
| Manufacturer | ‎NZXT, NZXT |
| Series | ‎Kraken 240 RGB |
| Colour | ‎Black |
| Item model number | ‎RL-KR240-W1 |
| Are Batteries Included | ‎No |
| Manufacturer | ‎NZXT |
| Country of Origin | ‎China |
| Item Weight | ‎1 kg 300 g |
[/vc_column_text][/vc_column][/vc_row][vc_row css=".vc_custom_1700138175143{border-top-width: 2px !important;}"][vc_column][vc_column_text]
About NZXT Liquid Cooler
Welcome to the cutting-edge world of PC cooling solutions with the NZXT Kraken 240 RGB Liquid Cooler White.
As technology continues to advance, the demand for efficient and stylish cooling solutions for high-performance computers is higher than ever.
The Kraken 240 RGB, proudly presented by NZXT, is at the forefront of liquid cooling innovation, offering a perfect blend of performance, aesthetics, and advanced features that cater to both enthusiasts and professionals alike.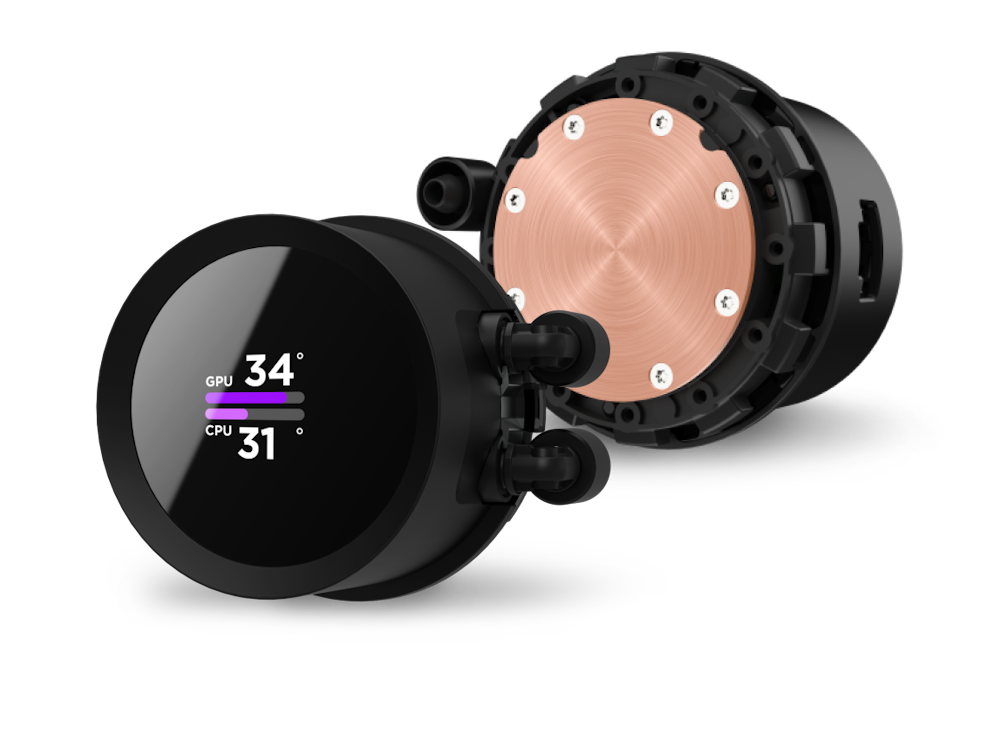 Key Features of the NZXT Computer Liquid Cooler
240mm Radiator: At the heart of the NZXT Kraken 240 RGB Liquid Cooler White is a high-quality 240mm aluminum radiator.This ensures optimal heat dissipation, allowing your CPU to operate at peak performance without the risk of overheating.

The large surface area and efficient design make it suitable for handling the heat generated by even the most demanding applications.

Dual Aer RGB 2 Fans: Equipped with two Aer RGB 2 fans, the NZXT Kraken 240 RGB Liquid Cooler White ensures not only superior cooling performance but also adds a vibrant touch to your PC build.These fans feature advanced fluid dynamic bearings for silent operation and customizable lighting, allowing you to personalize your setup with millions of colors and dynamic effects.
Infinity Mirror Design: NZXT's signature infinity mirror design on the pump head takes the aesthetics of the NZXT Kraken 240 RGB Liquid Cooler White to the next level.The mirrored RGB lighting creates a mesmerizing visual effect, making your liquid cooler a centerpiece in your system.

The customizable lighting through NZXT's CAM software allows you to match the Kraken's appearance with the overall theme of your PC.

CAM-Powered Controls: The NZXT Kraken 240 RGB Liquid Cooler White is not just a cooler; it's a smart cooler.With NZXT's CAM software, you have complete control over your cooling setup. Adjust fan speeds, monitor temperatures, and customize RGB lighting profiles effortlessly.

The intuitive and user-friendly interface makes it easy for users, both novice and experienced, to fine-tune their cooling solution.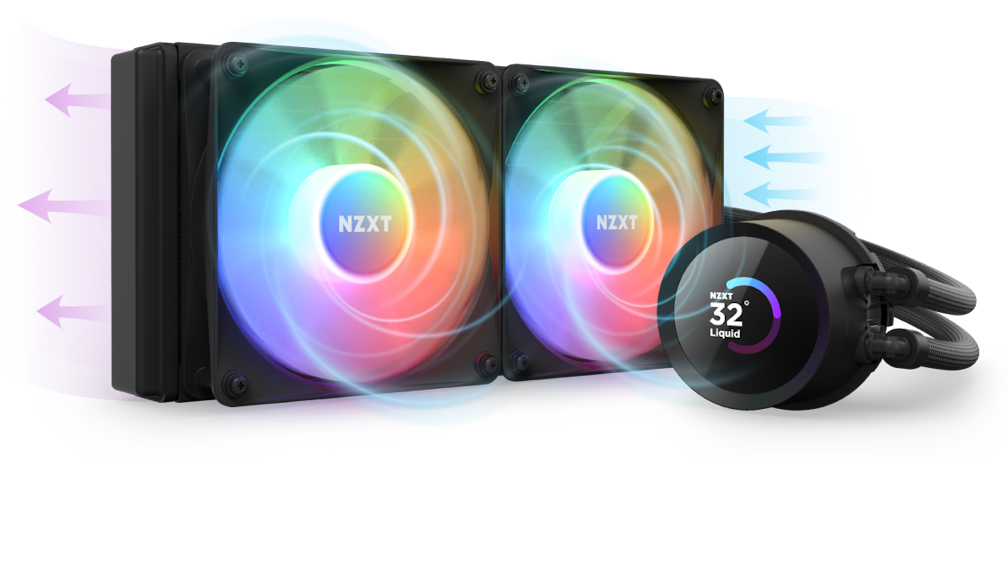 Advanced Pump Design: The pump is the heart of any liquid cooling system, and the NZXT Kraken 240 RGB Liquid Cooler White boasts an advanced pump design for efficient and quiet operation.The pump's performance is optimized to ensure a reliable and consistent coolant flow, maintaining your CPU's temperature within optimal limits.
Reinforced Nylon Sleeved Tubing: The NZXT Kraken 240 RGB Liquid Cooler White features reinforced nylon sleeved tubing, which not only adds to the cooler's durability but also enhances the overall aesthetics of your build.The tubing is designed for flexibility and easy installation, ensuring a clean and professional look inside your PC.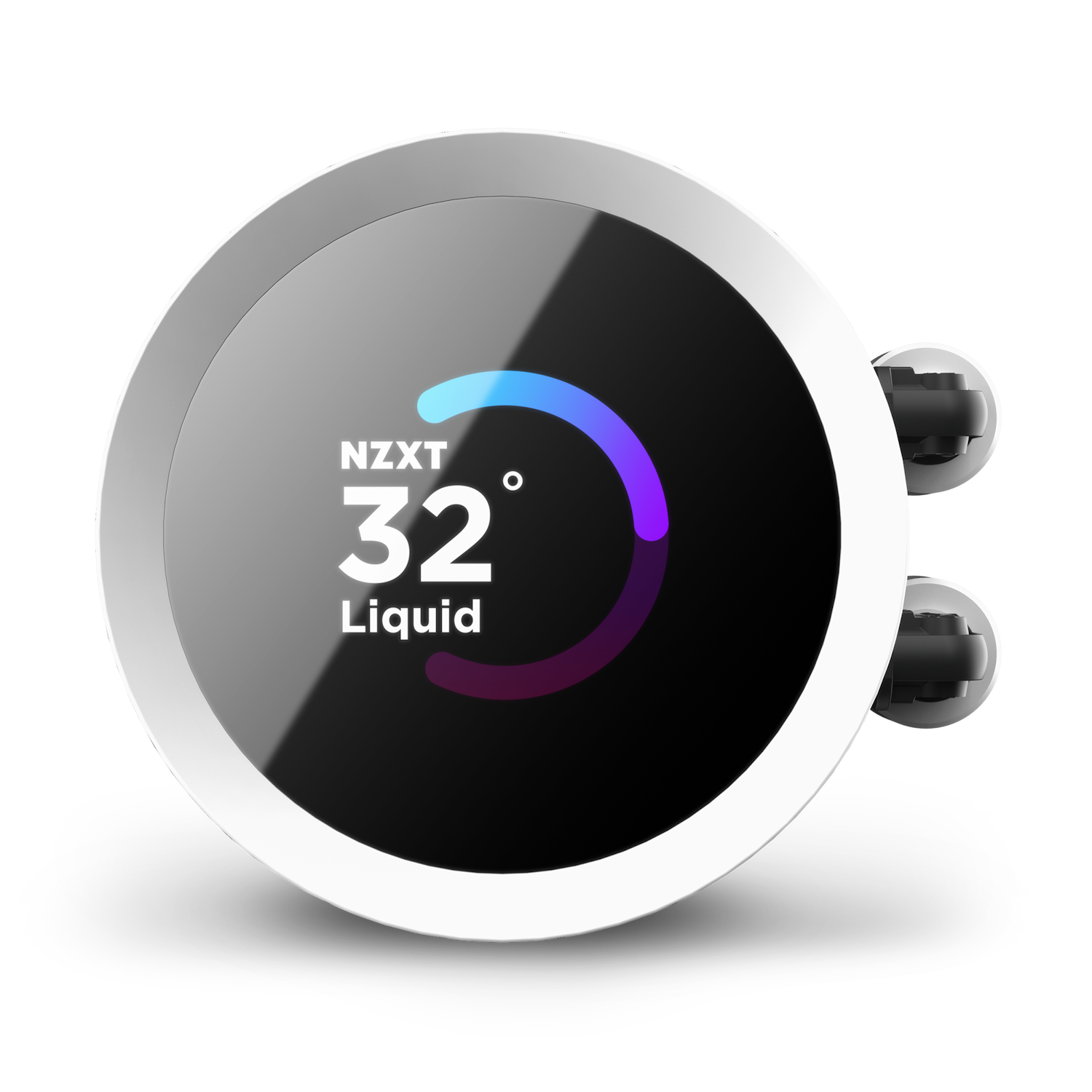 Applications of the NZXT Desktop RGB Liquid Cooler
Gaming: For avid gamers pushing their systems to the limit, the Kraken 240 RGB Liquid Cooler White offers a crucial advantage.Intense gaming sessions generate significant heat, and this liquid cooler ensures that your CPU remains cool under pressure.

The customizable RGB lighting adds a touch of flair to your gaming rig, creating an immersive experience.

Content Creation: Content creators working with resource-intensive applications such as video editing and 3D rendering require a cooling solution that can handle prolonged periods of high CPU usage.The Kraken 240 RGB Liquid Cooler White efficient cooling capabilities make it an ideal choice for content creation, ensuring that your CPU maintains optimal performance without throttling.
Overclocking Enthusiasts: Overclocking pushes CPU performance beyond stock settings, but it also generates more heat.The Kraken 240 RGB Liquid Cooler White, with its robust cooling performance and CAM-powered controls, caters to overclocking enthusiasts.

Keep your CPU temperatures in check while pushing the boundaries of performance.

PC Customization: PC enthusiasts love to showcase their creativity through custom builds.The Kraken 240 RGB Liquid Cooler White not only excels in performance but also adds a touch of personalization to your rig.

With the ability to synchronize RGB lighting with other NZXT components, you can create a harmonized and visually stunning PC setup.

Silent Computing: The Aer RGB 2 fans and the advanced pump design ensure that the Kraken 240 RGB Liquid Cooler White operates quietly, making it an excellent choice for users who prioritize a silent computing environment.Whether you're working, gaming, or simply browsing, enjoy a peaceful experience without sacrificing cooling performance.
NZXT RGB White Liquid Cooler: Worth the Investment?
The Kraken 240 RGB Liquid Cooler White is a testament to NZXT's commitment to delivering top-notch cooling solutions for PC enthusiasts.
With its powerful performance, stunning aesthetics, and smart controls, the Kraken 240 RGB Liquid Cooler White stands out in the competitive landscape of liquid coolers.
Elevate your PC build to new heights with this exceptional cooling solution that not only keeps your system cool but also adds a touch of brilliance to your setup.
With this you can also attain the Kraken 240 Liquid Cooler Black.
Pump features an embedded 1.54" square LCD screen to display real-time system info or custom images.

Adjustable screen orientation accommodates pump head position.

Powerful Asetek pump provides optimal cooling and up to 2,800 RPM whisper-quiet operation.

Includes high-performance PWM fans with fluid dynamic bearings for optimal cooling.

Includes F140P/F120P Static Pressure fans.
[/vc_column_text][/vc_column][/vc_row]