Description
[vc_row][vc_column][vc_column_text]
About Razer Blackshark V2 Wired On Ear Headphones
| | |
| --- | --- |
| Brand | ‎Razer |
| Manufacturer | ‎Razer, Razer |
| Series | ‎Rz04-03230100 R3M1 |
| Colour | ‎Black |
| Form Factor | ‎Over Ear, On ear |
| Item Height | ‎9.8 Centimeters |
| Item Width | ‎17.2 Centimeters |
| Product Dimensions | ‎19.3 x 17.2 x 9.8 cm; 639 Grams |
| Item model number | ‎RZ04-03230100-R3M1 |
| Hardware Platform | ‎PC |
| Operating System | ‎Windows 10 |
| Are Batteries Included | ‎No |
| Included Components | ‎Gaming Headset |
| Manufacturer | ‎Razer |
| Country of Origin | ‎China |
| Item Weight | ‎639 g |
[/vc_column_text][/vc_column][/vc_row][vc_row css=".vc_custom_1695660520201{border-top-width: 2px !important;}"][vc_column][vc_column_text]
About Razer Blackshark Wired Headphones
In the world of gaming, where every sound and detail can make the difference between victory and defeat, having the right audio equipment is paramount.
Enter the Razer Blackshark V2 Wired On-Ear Headphones, a masterpiece of gaming audio engineering.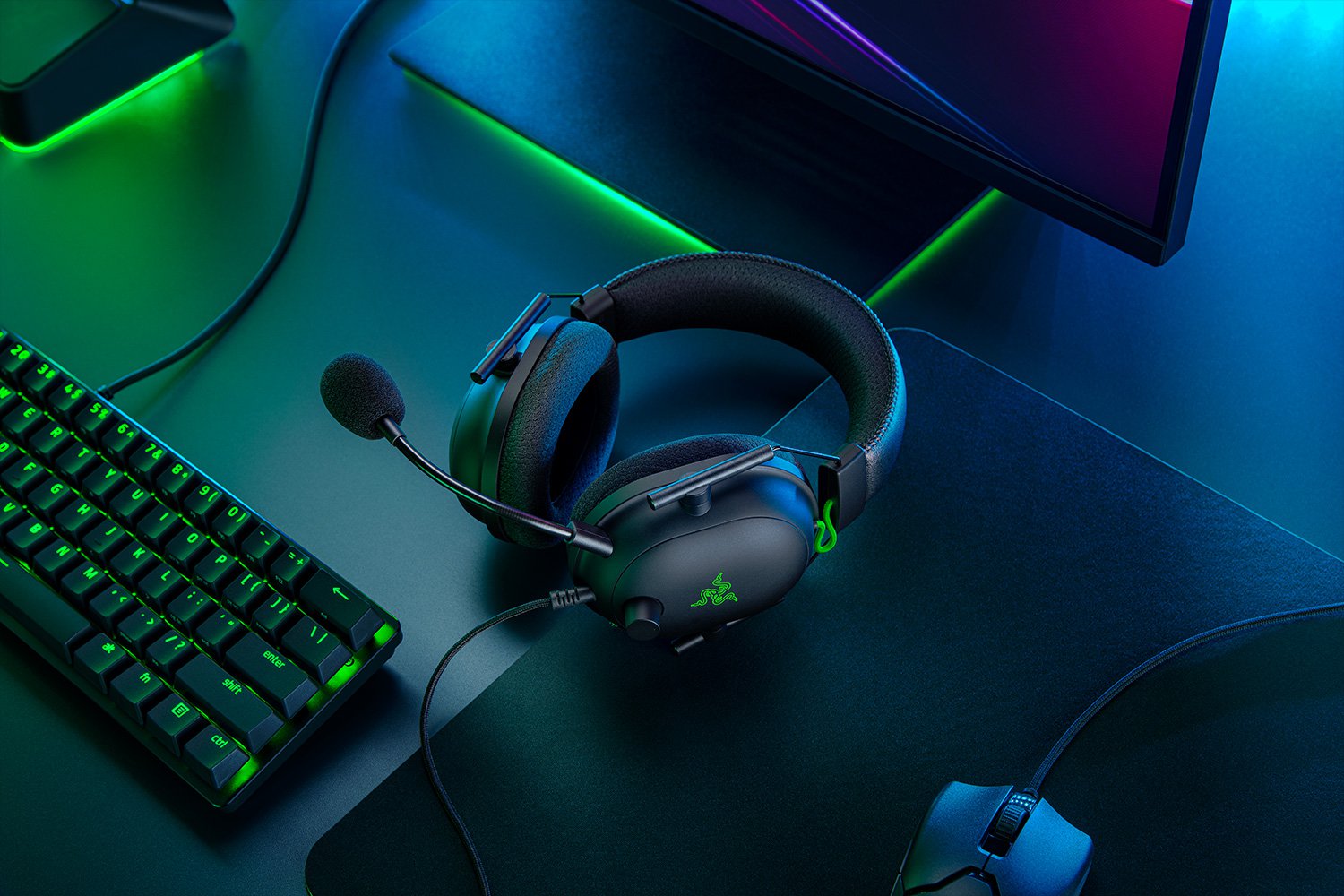 About Razer Wired Headphones
Exceptional Sound Quality: At the core of the Razer Blackshark V2 Wired On Ear Headphones lies its exceptional sound quality.Boasting Razer's TriForce Titanium 50mm drivers, these headphones deliver sound that is not only crisp but also immersive.

Whether you're in the heat of battle in a first-person shooter, exploring the vast open worlds of RPGs, or just enjoying your favorite music, the Blackshark V2 offers an auditory experience that's second to none.

A standout feature of the Razer Blackshark V2 Wired On Ear Headphones is its THX Spatial Audio technology.

This advanced technology creates a three-dimensional soundstage, allowing you to pinpoint the direction and distance of in-game sounds with remarkable accuracy.

This is a game-changer for competitive gamers, as it can provide a distinct advantage by helping you anticipate your opponents' movements based on their audio cues.

Comfort and Durability: Long gaming sessions demand headphones that are comfortable to wear for extended periods, and the Razer Blackshark Wired Headphones excels in this regard.Featuring plush memory foam ear cushions that adapt to the shape of your ears, these headphones provide exceptional comfort even during marathon gaming sessions.

The lightweight design ensures that you can wear them for hours on end without discomfort.

Durability is another critical aspect of gaming headphones, and the Razer Blackshark V2 Wired On Ear Headphones does not disappoint.

Its robust construction, reinforced headband, and premium materials make it a reliable choice for gamers who expect toughness from their gear.

These headphones are built to withstand the rigors of intense gaming and promise long-lasting performance.

Clear Communication: Effective communication is crucial in team-based online games, and the Razer Blackshark V2 Wired On Ear Headphones excels in this aspect.It comes equipped with a detachable Razer HyperClear Cardioid microphone that ensures crystal-clear voice communication.

The microphone is designed to minimize background noise, ensuring that your teammates hear your commands and strategies without any interference.

Additionally, the Razer Blackshark V2 Wired On Ear Headphones features an in-line remote control with volume and mute controls, allowing you to make quick adjustments without leaving the game or losing focus.

Customization and Compatibility: Personalization is key to optimizing your gaming experience, and the Razer Blackshark V2 Wired On Ear Headphones offers extensive customization options.Razer Synapse software allows you to fine-tune the headset's audio settings to your liking.

You can adjust equalization, enhance bass, or choose from various preset profiles tailored for different game genres.

The Razer Blackshark V2 Wired On Ear Headphones is highly versatile when it comes to compatibility.

It is compatible with a wide range of platforms, including PC, Mac, PlayStation, Xbox, and more, making it an excellent choice for multi-platform gamers.

Whether you're gaming on your console or PC, the Blackshark V2 has you covered.

Style and Aesthetics: Gaming is not just about performance; it's also about style.The Razer Blackshark V2 Wired On Ear Headphones doesn't disappoint in this department either. It features a sleek and modern design with Razer's signature black and green color scheme.

The illuminated Razer logo on the ear cups adds a touch of flair to your gaming setup.

Utility Beyond Gaming: While the Razer Blackshark V2 Wired On Ear Headphones is undoubtedly designed with gamers in mind, its utility extends beyond gaming.These headphones are equally suitable for watching movies, listening to music, or engaging in video conferencing.

The exceptional sound quality, comfortable fit, and clear microphone make them a versatile choice for various multimedia activities.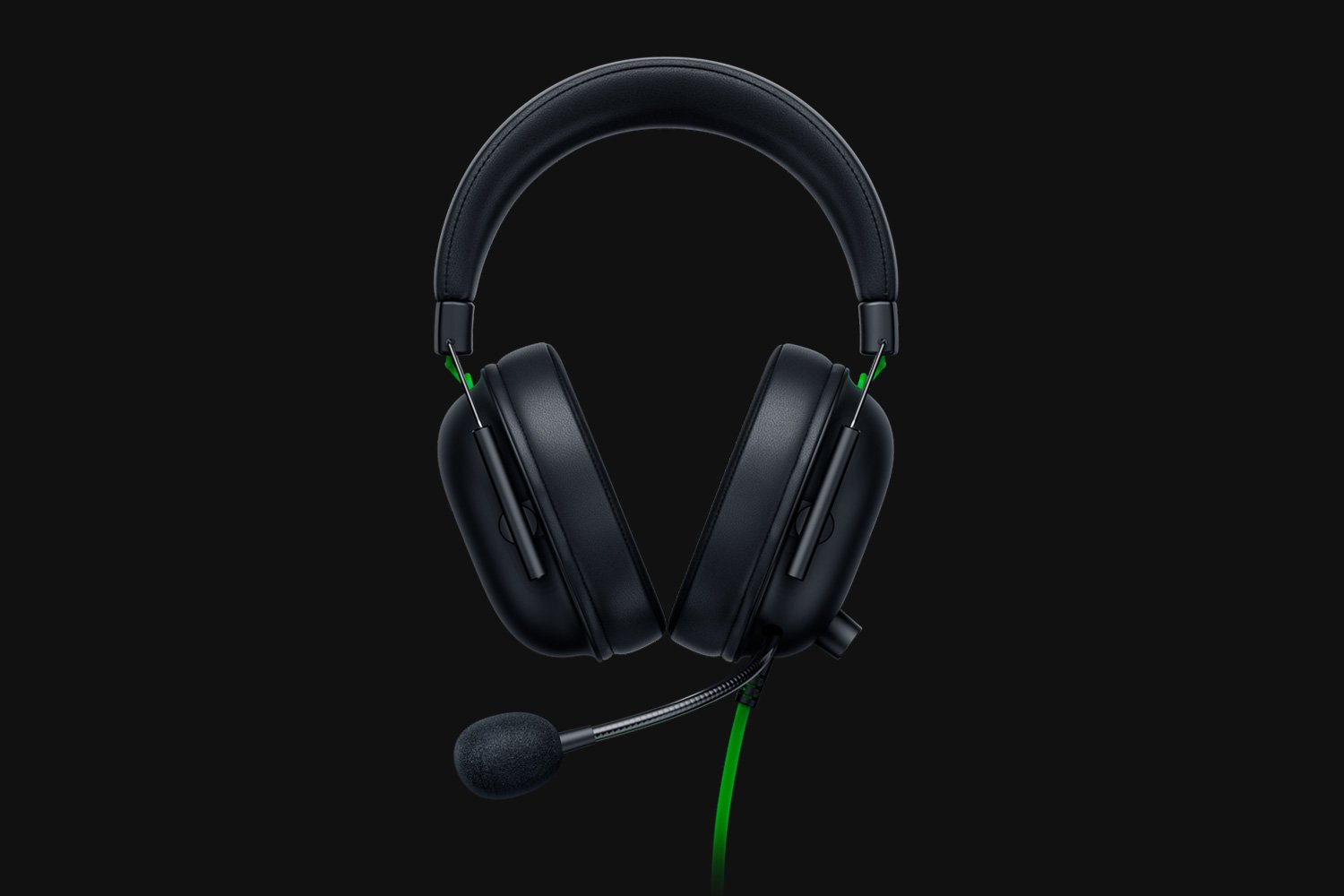 About Razer Series Headphones
In summary, the Razer Blackshark V2 Wired On Ear Headphones are a gaming audio masterpiece that promises to elevate your gaming and entertainment experiences to new heights.
With exceptional sound quality, comfort, durability, customization options, and versatile compatibility, they offer a complete package for gamers of all levels.
Don't miss the opportunity to immerse yourself in the world of gaming with unparalleled audio quality.
Upgrade to the Razer Blackshark V2 and experience gaming like never before.
Wired On Ear Headphones with Mic
We at Kharidiye.com being an authorised dealer as well as reseller also offers to you the Razer Barracuda X Quartz Pink Headphones.
Color:Quartz Pink, Headphones Form Factor:On Ear, Recommended Uses For Product:gaming.

Wireless USB-C Multi-Platform Connectivity: With a high-speed 2.4GHz connection, enjoy seamless audio whether you are gaming at home or out with your phone, easily jumping between devices thanks to a versatile USB-C dongle with USB-A extender.

250g Ergonomic Design: Built for gaming marathons yet portable enough for daily commutes, its lightweight build is complemented by breathable memory foam ear cushions and swiveling earcups for a snug, comfortable fit.

Razer TriForce 40mm Drivers: Our patented 3-part driver design pushes out exceptional highs, mids and lows that doesnâ€t muddy, providing deeper gaming immersion and a more dynamic listening experience for music and videos.

Detachable Razer HyperClear Cardioid Mic: While the mic is tuned to suppress background noise for enhanced voice capture during gaming, it can also be easily removed to make the headset more travel-friendly for mobile use.
[/vc_column_text][/vc_column][/vc_row]