Description
[vc_row][vc_column][vc_column_text]
About Samsung 4GB 3200MHz DDR4 RAM for Laptop
| | |
| --- | --- |
| Brand | ‎Samsung |
| Manufacturer | ‎samsung |
| Model | ‎M471A5244CB0-CWE |
| Package Dimensions | ‎17.09 x 10.9 x 3.61 cm; 9 Grams |
| Item model number | ‎M471A5244CB0-CWE |
| RAM Size | ‎4 GB |
| Memory Storage Capacity | ‎4 GB |
| Ram Memory Technology | ‎SO-DIMM |
| Computer Memory Type | ‎DDR4 SDRAM |
| Compatible Devices | ‎Laptop |
| Special Features | ‎Lightweight |
| Voltage | ‎1.2 Volts |
| Batteries Included | ‎No |
| Batteries Required | ‎No |
| Data Transfer Rate | ‎2666 MHz |
| Form Factor | ‎SO-DIMM |
| Does it contain liquid? | ‎No |
| Manufacturer | ‎samsung |
| Item Weight | ‎9 g |
[/vc_column_text][/vc_column][/vc_row][vc_row css=".vc_custom_1700929204989{border-top-width: 2px !important;}"][vc_column][vc_column_text]
About Samsung DDR4 RAM for Laptop
Welcome to the cutting-edge world of computing where speed, efficiency, and reliability are paramount.
If you're looking to elevate your laptop's performance to new heights, the Samsung 4GB 3200MHz DDR4 RAM is your gateway to a seamless and powerful computing experience.

Features of the Samsung RAM for Laptops
High-Speed Performance: The Samsung 4GB 3200MHz DDR4 RAM for Laptop is designed to deliver lightning-fast data transfer rates, operating at an impressive 3200MHz.This high-speed performance ensures quick and efficient multitasking, smooth application launches, and responsive computing.
Optimized for Laptops: Engineered specifically for laptops, this Samsung 4GB 3200MHz DDR4 RAM for Laptop module is tailored to meet the unique requirements of portable computing devices.With a 260-pin form factor, it seamlessly integrates into your laptop's memory slots, allowing for easy installation and instant performance enhancement.
4GB Capacity: The 4GB capacity strikes the perfect balance between affordability and performance.It provides ample memory for everyday tasks, ensuring a snappy and lag-free computing experience.Whether you're a casual user or a multitasking pro, this capacity is well-suited for a variety of applications.
DDR4 Technology: Embracing the latest DDR4 technology, Samsung ensures that your laptop operates on the cutting edge.DDR4 offers improved energy efficiency, increased bandwidth, and enhanced overall system performance compared to its predecessors.
Reliable Brand Reputation: Samsung, a global technology giant, has earned a reputation for producing high-quality and reliable components.When you choose Samsung, you're investing in a brand known for innovation and excellence, giving you confidence in the performance and longevity of your laptop's memory.
Plug-and-Play Installation: Upgrading your laptop's memory shouldn't be a complicated process.The Samsung 4GB 3200MHz DDR4 RAM for Laptop features a plug-and-play design, allowing even novice users to effortlessly enhance their laptop's performance.No need for complex configurations—simply install, and you're ready to experience the boost in speed.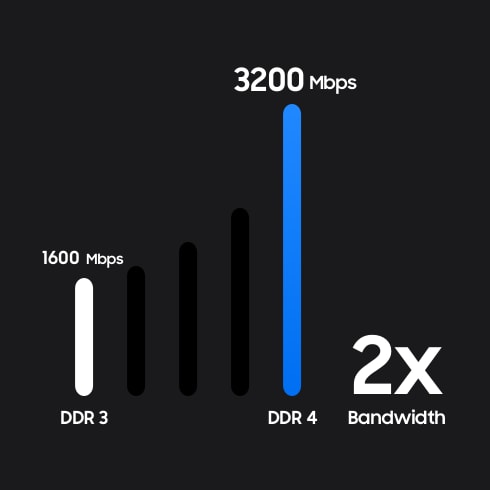 Benefits of Applications of the Samsung 4GB RAM for Laptop
Enhanced Multitasking: Say goodbye to slowdowns and lag when running multiple applications simultaneously.The high-speed performance of the Samsung 4GB 3200MHz DDR4 RAM for Laptop enables smooth multitasking, making it ideal for professionals who rely on resource-intensive software.
Faster Application Loading: Games, creative software, and demanding applications load faster, reducing wait times and allowing you to focus on what matters most.The 3200MHz speed ensures quick data access, contributing to a more responsive computing experience.
Improved System Responsiveness: Your laptop's overall responsiveness receives a significant boost, enhancing everyday tasks such as web browsing, document editing, and file management.Experience a snappier and more efficient workflow with the Samsung 4GB 3200MHz DDR4 RAM for Laptop.
Seamless Content Creation: Content creators, rejoice! Whether you're editing videos, working on graphic design projects, or running virtual machines, the Samsung 4GB 3200MHz DDR4 RAM for Laptop ensures a seamless and efficient content creation process.Say hello to reduced rendering times and smoother editing experiences.
Future-Proof Your Laptop: As software and applications become more demanding, having sufficient RAM is crucial.By upgrading to the Samsung 4GB 3200MHz DDR4 RAM for Laptop, you're future-proofing your laptop, ensuring it can handle the evolving landscape of computing without compromising on performance.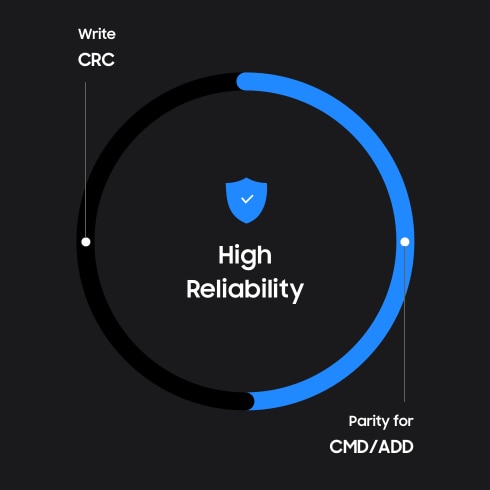 Samsung RAM for Gaming: Worth the Investment?
The Samsung 4GB 3200MHz DDR4 RAM for Laptop is a game-changer when it comes to elevating your computing experience.
With its high-speed performance, laptop-optimized design, and the reliability of the Samsung brand, this memory module is a smart investment for anyone looking to boost their laptop's capabilities.
Upgrade your laptop today and unlock the full potential of your computing power with Samsung's cutting-edge DDR4 RAM technology.
You can also attain the Samsung 4GB DDR4 2666MHz Desktop RAM.
Form Factor: 288PIN DIMM

Total Capacity: 4GB

Lifetime warranty

Speed: 2666 MHz

Specs: DDR4 PC4-21300 ,CL19 ,Unbuffered ,NON-ECC ,DDR4-2666 ,1.2V
[/vc_column_text][/vc_column][/vc_row]