AMD FX 8320E (8 core) processor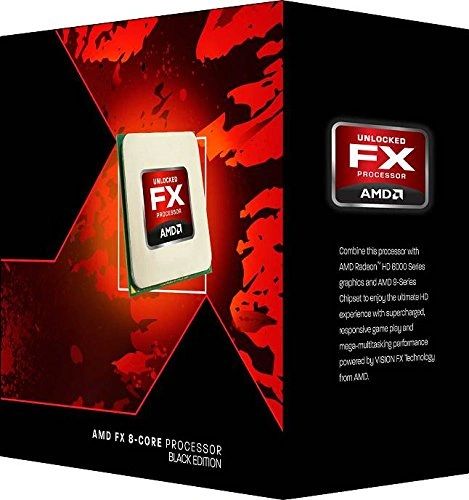 AMD FX 8320E (8 core) processor
Brand: AMD

Includes: Processor, AMD-qualified heat sink and fan with thermal interface

Performance: 8 core processor with Turbo Core technology

Speed: 3.5GHz

Memory: DDR3 37GB/s

Cache Memory: 128 KB (L1), 8 MB (L2), 8 MB (L3)

64 bit support with virtualisation technology support

Silicon-on-technology

Additional Blu Ray drive with 3D capability

Power Consumption: 125W

Voltage: 120V
The industry's only 8-core desktop processor

Overclock with easy to use AMD Overdrive technology and AMD Catalyst Control Center software suites

Supreme power available from virtually every core configuration - also available in 6- and 4-core variants

Aggressive performance for mega-tasking and intensive applications like video editing, 3D modeling

The industry's first and only native 8-core desktop processor for unmatched multitasking and pure core performance with "Bulldozer" architecture
Dynamic Performance Levels and Efficiency
The AMD FX 8320E processor brilliantly blends note-worthy performance with efficiency. It effortlessly carries out multiple functions and seamlessly balances a number of tasks at one go. A must-have for all those who desire a powerful processor for their laptop or computer, this AMD processor is one of the world's only 8 core processor. Designed with finely-tuned bulldozer architecture called Piledriver, the AMD 8 core processor will catch you off guard with its blazing fast speed of 3.5GHz and an equally impressive turbo speed of 4GHz. Without compromising on performance efficiency, this processor assures you of rapid, inimitable task management.
Blazing Fast Speeds for Superior Performance
Integrated with the patented Turbo Core technology, this 8 core desktop processor delivers performance like never witnessed before. It takes the existing Thermal Design Power (TDP) and syncs it with your current activity by powering up or down, according to the processing speed required. In simpler words, this 8 core processor dynamically adjusts according to the activity's load on it. Get ready to be amazed with the impressive DDR3 37GB/s memory of this processor. For easy access to frequently-used data, this AMD processor features an impressive cache memory of 128 KB (L1), 8 MB (L2) and 8 MB (L3).
Immediate Response to Multiple Instructions
This 8 core Black Edition processor comes with an AMD-qualified heat sink and a fan that features a thermal interface, these devices assure you of quite, yet powerful performance and prevent the processor from heating up. Give endless commands, watch Blu Ray movies and play 3D games without worrying about your PC slowing down. Thanks to the 8 core processor, it considerably increases IPC (Instructions per Clock), allowing you to give multiple commands at one go without any lag in response. For optimum performance, the processor consumes 125W of power and requires an operating voltage of 120V.
Reviews