Kortek YK-5000 Dual Wireless Karaoke Microphone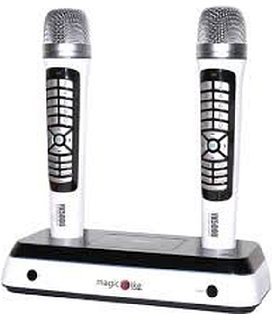 Kortek YK-5000 Dual Wireless Karaoke Microphone
Taking your entertainment and hearing experience to a completely different level, the YK5000 Dual Wireless Karaoke Microphone is your best bet if you are a music and karaoke enthusiast. With over 5400 in-built songs in English, Hindi and other regional languages, this wireless karaoke system comes with a 2.4 GHz ISM band and a 20 m wireless range. It also gives you the facility to record as well as reserve 8 songs each. There are 4 additional song chip slots along with other impressive features like digital echo, key, tempo controls, RCA audio (2CH) and Video Output. The power supply is 100V - 240VAC input which ensures every night is karaoke night.

5400 Songs inbuilt . ( English-3200,Hindi-1500,Marathi-100,Punjabi-100,Tamil-100,Malyalam-100,Bengali-100,Telugu-100,Gujarati-100)

Song Recording /Play Back

Song Reservation

Additional Song chip slots (04 Slots)

Digital Echo,Key ,Tempo controls.

RCA Audio(2CH) & Video(SD) Output

5V DC adapter operating.

100V~240VAC Input.

Product Dimensions (46Wx250Hx48D) mm.

Product weight 370gms.



WARRANTY
Reviews