TP-Link TD-W8151N 150Mbps Wireless N ADSL2+ Modem Router (White/Grey)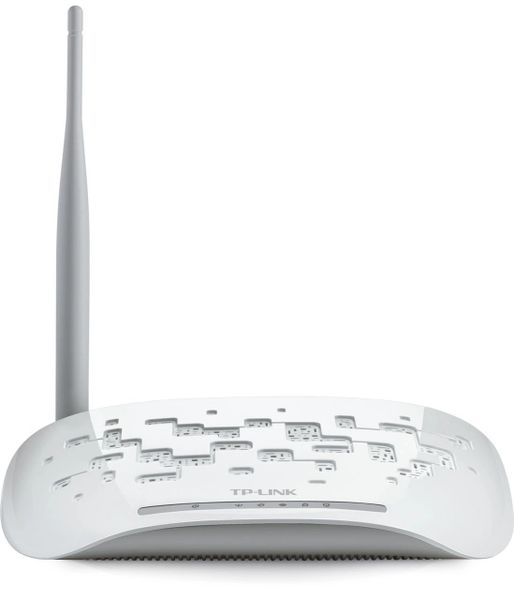 TP-Link TD-W8151N 150Mbps Wireless N ADSL2+ Modem Router (White/Grey)
High speed DSL modem 1-port NAT router and wireless N access point in one device

Wireless N speed up to 150Mbps makes it great for online gaming, internet call and video streaming

Easy setup assistant with multi-language support provides quick and hassle free installation

QoS engine enables smooth IPTV streaming and lag-free online gaming

Supports the latest Internet Protocol IPv6 to future proof your network
Product Description
High-Speed N Connectivity
The TP-Link TD-W8151N Wireless N ADSL2+ Modem Router (White/Grey) can be your efficient broadband connectivity solution as it offers you the advanced Wi-Fi 802.11 N technology to allow fast and lag-free HD video streaming, online gaming and internet calling. The device also functions as a wireless access point letting you add multiple smartphones, tablets, desktops, laptops etc. and avail the high-speed 150 Mbps data transfer rate enabled by its Wi-Fi N standard compliance. The TD-W8151N Modem Router provides stronger signal coverage with its up to 9x the speed and 4x the range of traditional 802.11 g modem routers. For ADSL2+ cable subscribers, the Modem Router can be utilized as an ADSL2+ router facilitating rapid internet connectivity in a wired mode with 24 Mbps downstream and 3.5 Mbps upstream speeds.
QoS Engine
Your internet traffic gets prioritized through the built-in QoS engine that allows for more broadband-intensive applications, such as, IPTV streaming and internet gaming to be executed, seamlessly.
Easy Setup Assistant
The TD-W8151N Modem Router features the Easy Setup Assistant that allows for a user-friendly installation procedure to let you get online rapidly. You can also interact with this device in your mother tongue with its multi-language interface to ease the set-up process even further. Wireless network settings, security configurations and all the other remaining aspects of the installation can be completed in simple steps using the provided AUTO-RUN CD. Moreover, you can be sure about the security of your internet network and prevent interference from foreign users or hackers owing to the NAT firewall of this Modem Router.
Sophisticated Technologies for Network Protection
The TD-W8151N Modem Router features a bundle of unique technologies to keep your internet network fully shielded from external attacks and allow for its better regulation. The NAT and SPI (Stateful Packet Inspection) firewalls scrutinize the incoming packets for their contents permitting only the safe ones to enter. You can be free of fears as regards any prospective internet attacks and limit your internet access to employees and kids as this device enables access control facilities based on MAC address, domain name, IP address or MSN, Yahoo Messenger etc. applications to give parents and network administrators more authority and power. The TR-069 and SNMP support of the Modem Router allows for automatic firmware and settings upgradation to let you always stay ahead in your network safety and monitoring.
From the Manufacturer
TD-W8151N 150Mbps Wireless N ADSL2+ Modem Router is an All-in-One device, which is designed to give you a one-stop solution to acquiring and sharing high speed Internet access over a wireless network. With the Easy Setup Assistant bundled in the CD, SPI and NAT firewall, QoS engine and other advanced features, you can easily setup a protected wireless network and enjoy the pleasant of Internet surfing, file sharing, VoIP, audio and Video streaming.
Reviews